Buy Used Medical Equipment for Canadian Healthcare Facilities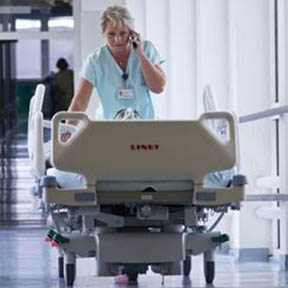 It's no secret that shrinking budgets are a reality in today's healthcare sector. Few facilities have the resources available to afford the latest and most sophisticated equipment. At the same time, healthcare providers are being called upon to decrease wait times, improve patient outcomes and deliver an overall higher standard of care than ever before. To meet these challenges, many clinics are turning to buying used medical equipment to free up resources that can be better allocated to other areas of the budget.
However, buying used hospital equipment isn't without its risks. When making any large purchase, it's important to be certain that you're getting a quality product to help your staff, not impede them. Here's how to go about buying the right used medical equipment.
---
---
Ask the Right Questions
When you're searching for used medical equipment, asking the right questions will lead you to the best results:
What is your budget and what are your needs? Is it worth it to spend more for extra features that will allow you to serve a wider range of patients?
How does this purchase better position your clinic for the future? Are you purchasing it to fulfill a temporary need, or to expand the range of services you can provide your patients?
What about maintenance? Will you be performing preventative maintenance in-house, or outsourcing it to a third party? Does your team have the expertise necessary to properly service your purchase?
Are you buying from a reputable supplier — one that is registered with Health Canada and has experience repairing both general and specialist equipment?
Will the supplier assist with the delivery and installation of your purchase? Is there an extra charge for these services?
Is there a warranty on the equipment? If so, how easy is it to get service under it? Does the warranty provider offer loaner equipment to avoid downtime during repairs?
Used or Remanufactured?
Remanufacturing your existing equipment is an alternative to buying used, and it's an option that many facilities don't consider. A comprehensive remanufacturing can correct issues with your existing equipment and add important engineering upgrades that will better position you to meet the challenges of the future.
Remanufacturing is typically similar in cost or less expensive than buying used. You'll benefit by getting a machine in like-new condition that your staff has already been trained to use properly. Meditek is a reputable equipment remanufacturer that also offers a thorough warranty on all items.
Contact Meditek for Expert Advice
Not all equipment qualifies for remanufacturing. If you're considering replacing aging surgical tables, lights or other hospital equipment, contact Meditek for a consultation with a local sales representative. We'll review the state of your equipment and help you make the right decision.
If remanufacturing isn't possible, we also have a large inventory of used hospital equipment for sale that can still save you the expense of buying new. Ask about our trade-in program, where you can receive up to $10,000 in credit for your older tables, stretchers, birthing beds and other equipment.
What equipment are you looking for?