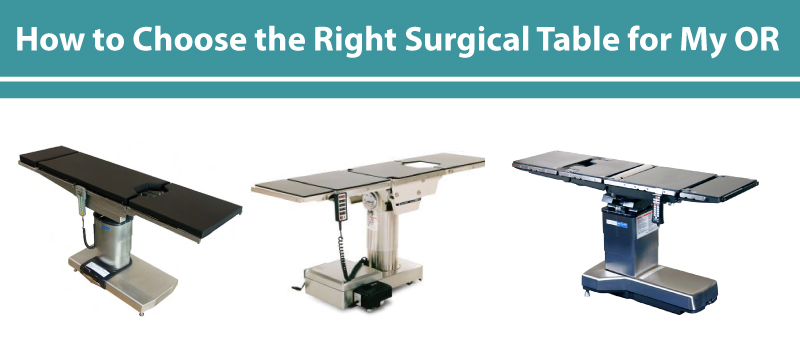 There is no shortage of operating room surgical tables on the market today.
With quality products available at almost any price point, it can be difficult to make smart purchasing decisions that support the efficiency, growth and success of your hospital.
As you evaluate your options, remember that the key trends in the industry are clinical effectiveness, patient safety, and enhanced productivity.
Surgical tables are no longer considered glorified gurneys.
Instead, they're viewed as essential tools in reducing errors and improving patient outcomes.
There is no one-size-fits-all "perfect" table on the market, but you should ask yourself several questions to make the process of buying an operating room surgical table a bit easier.
Meditek has prepared this guide to help you become a more informed consumer, and we encourage you to contact us with any questions you have about how to choose the right surgical table for your OR.
What Procedures Will You Perform?
It goes without saying that the main consideration when shopping for an operating room surgical table is the type of procedure the table will be used for.
A hospital specializing in certain procedures has different needs than a general hospital performing a variety of surgeries.

General surgery tables will offer support for a range of patient postures including Trendelenburg, lateral, prone and more.
A quality general surgery table will also include C-arm support for fluoroscopy and other imaging procedures.
Their versatility makes general surgery tables the leader in the market for surgical tables.
Hospitals that specialize in neurology, orthopedics, urology, bariatric and other types of surgery will want to purchase a table designed specifically for that procedure.
This can improve workflow and facilitate the use of certain tools.
For example, facilities treating bariatric patients require tables with a high weight capacity and greater width to eliminate discomfort for both the patient and practitioner.
Neurology tables are some of the most advanced surgical tables on the market. Patients must be placed in precise positions during surgical procedures. For example, Skytron surgical tables designed for neurology procedures offer features such as foot-controlled tabletop slide functions, manual controls for head section and back section extension positioning, and both longitudinal and lateral slide.
Orthopedic tables from companies such as Steris, Mizuho OSI and Maquet are designed to integrate with the advanced imaging equipment needed to perform common orthopedic procedures. They also come with a wide range of accessories that can be used to assist in proper patient positioning.
Urology and cytology tables from manufacturers such as Biodex and Skytron can make delicate procedures safer by maximizing C-arm access, offering radiolucent extension for brachytherapy treatment, and improving overall patient accessibility for surgeons, anesthesiologists, and nurses.
There are also tables designed to accommodate the precise positions patients must be placed in to for today's sophisticated imaging methods and non-invasive procedures.
Meditek provides surgical imaging tables from manufactures such as Steris, Skytron, and Medstone, all of which are designed to make it easy to obtain 3-D imaging studies, fluoroscopy, or catheter tray extensions.
A high-quality specialty surgery table can cost up to three times as much as a general surgery table, so consider your needs carefully to avoid spending money unnecessarily.
When your facility has a limited budget, there's no need to buy a table with features that will go unused.
What Basic Features Are Important to You?
When you're picking a surgical table, there are some key characteristics you should look for in any model.
These include comfortable access to the patient's incision site, monitor accessibility, the ability to safely position the patient as needed, and the flexibility of taking images of the patient quickly and easily during surgery.
A durable table should be constructed with a completely sealed column.
A complete seal prevents fluids such as blood, water, saline, and Betadine from seeping into the base of the table and causing long-term damage.
A sealed column is also the most hygienic choice.
An operating table bed must be soft enough to distribute the pressure of the patient's body optimally.
If a patient lies on a table incorrectly or for an extended period, pressure sores can develop and the facility could be held financially liable.
The bed material must also be radiolucent to ensure it remains invisible during x-rays and fluoroscopy.
Most surgical tables sold in today's market are electro-hydraulic tables, but electro-mechanical tables offer articulation that is more precise.
In specialized procedures such as neurosurgery, an electro-mechanical table is better suited to meet the needs of both the surgeon and patient.
Do You Want a Stationary Operating Table or a Mobile Operating Table?
Operating tables are classified as either stationary or mobile.
Each of type of surgical table has its own unique advantages and disadvantages.
A stationary operating table system features a table column that is securely anchored to the floor.
To prepare the room for procedures, X-ray equipment and other necessary medical devices must arrive and be positioned.
Usually a fixed surgical table will have a variety of specialty top sections which can be removed or added as required, depending on what procedure is being performed.
A mobile operating table can be used in any size facility, and they are by far the most popular option.
With a mobile operating table, the table's position can be easily changed within the operating room from procedure to procedure.
However, most are equipped with a specific discipline in mind.
Factors to consider when choosing between stationary and mobile operating table options include:
Hygiene: Stationary operating tables are more hygienic than mobile operating tables because mobile tables have casters are difficult to clean properly underneath.
Space: The primary drawback of a stationary operating table is that it cannot be moved for different room layouts or for different procedure positioning requirements
Communication with Diagnostics Systems: It's impossible to use a mobile operating table to communicate with MR, CT, and angiography diagnostics systems. Stationary operating tables are required for this purpose because the systems need a fixed communication point to work properly.
Specialization: Mobile operating tables have tabletops that can't be removed or replaced, making them best suited for use as a general table.
What Table Height Is Best?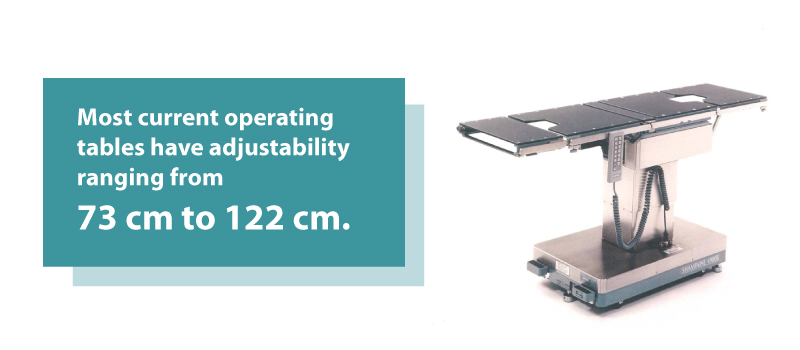 To meet the ergonomic requirements of the surgeon and other operating staff, an adjustable table is a necessity.
Most current operating tables have adjustability ranging from 73 cm to 122 cm.
The adjustability of a standard operating table is sufficient for open surgery, but may not be enough for the growing trend toward laparoscopic surgery.
According to a study in the Journal of the Society of Laparoendoscopic Surgeons, adjustability of the operating table can have serious consequences during laparoscopic surgery.
When a table can't be adjusted low enough for a procedure, surgeons must compensate by lowering their arms, and conversely when it can't be adjusted high enough – climbing on a step.
This limits their movements and creates fatigue that can lead to serious errors.
Researchers found that current operating tables are too low for 95% of surgeons performing laparoscopic procedures, with the tallest surgeons experiencing the most difficulty.
Working on bariatric patients is another example of a situation in which an adjustable table becomes critical.
Bariatric patients have a higher profile when they are positioned supine on the table.
If the table does not adjust to the desired height, the surgeon may have to stand on a stool or platform.
Again, this creates fatigue that can lead to errors during the operation.
Finally, surgeons who prefer to remain seated during procedures may express a preference for a lower surgical table.
Not all surgeries can be performed safely while sitting, but surgeons frequently sit during hand and arm procedures, and during certain anorectal and gynecologic procedures.
Do You Want a Modular Table?
Modular surgical tables are a popular trend for today's healthcare facilities.
A modular table saves money by promoting flexibility and adaptability.
Its components let surgeons reconfigure the table to suit several different kinds of surgical procedures.
For example, many modular tables have removable back and leg sections.
The customizability of modular surgical tables makes them ideal for operating rooms that are equipped with MRI scanners, CT scanners, and other advanced medical imaging devices.
With minimally invasive surgery growing in popularity, a modular surgical table is a wise investment for healthcare facilities of all sizes.
What Type of Advanced Features Do You Want?
Once you've decided whether you need a general surgery table or one designed for a specific procedure, it's time to consider what features best fit your needs.
Today's modern surgical tables typically include a number of additional features designed to improve access, simplify patient transfer, and streamline your workflow.
Features can include things such as auto-drive, pre-programmed positions, and table top-slide.
The degree of value these additional features add to your facility will depend largely on the type of procedures you typically perform and the type of environment you work in.
When you're looking at operating room tables with lots of modern bells and whistles, remember that you want to avoid forcing your surgeons to become engineers in order to successfully use the operating room table.
Complex tables create additional work for surgeons who should be focusing their attention on achieving the best possible surgical outcome for their patients.
Technology should improve your workflow, not hinder it. Sometimes, simplicity is better.
In addition to providing a large assortment of sophisticated tables for hybrid ORs, Meditek also sells high-quality, remanufactured no-frills models that offer exceptional all-around performance at a price that's right for any healthcare facility's budget.
What Height and Weight Range Do You Need?
At one point in time, only hospitals specializing in bariatric surgery needed tables to accommodate larger patients.
However, with the Canadian Obesity Network reporting that one in four adults and one in 10 children meet the definition of clinical obesity, a table able to accommodate larger patients is a wise investment that will most likely be used on a regular basis.
Obese people are more likely to suffer from serious health problems such heart disease, high blood pressure, stroke, and cancer — making them frequent consumers of healthcare services.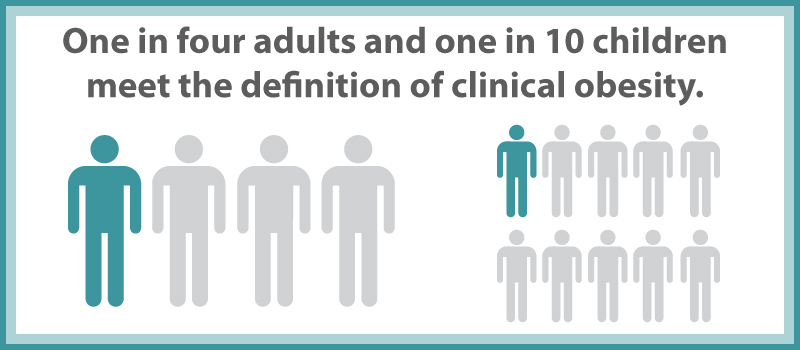 In the past, hospitals strapped together two surgery tables to operate on obese patients, because most tables had a maximum weight of 300 lbs.
Today, however, you can purchase general surgery tables, such as the Skytron Hercules 6700B, that can lift 1,200 lbs and articulate up to 1,000 lbs.
At a bare minimum, a modern surgical table should support at least 500 lbs.
The greater the range of patient heights and weights your table can accommodate, the less you will need to rely on specialized tables for larger patients.
Weight rating is also a strong indicator of the table's quality, as the engineering upgrades required to support larger patients will also contribute to its all-around durability.
What Accessories Do You Want?
Surgical tables can be purchased with many additional accessories, such as:
Anesthesia Screens: Anesthesia screens are sold in a range of sizes and configurations, including Form-A-Screen, Universal, and Standard.
Arm Supports: Arm supports allow for positioning the patient in a way that is both comfortable and appropriate for the specific procedure.
Body Restraints: Restraints can be purchased for steep Trendelenburg, reverse Trendelenburg, lateral, prone, supine, and semi fowler patient positioning.
Clamps and Sockets: Your OR may need various clamps and sockets to attach surgical table accessories with round posts, flat, rectangle bar posts, or square posts.
Drain Pans: Drain pans that are easy for staff to retrieve and clean enhance the functionality of your surgical table.
Head Rests: Designed to support and protect the patient's face, there are headrests intended to assist with supine, prone, and lateral positioning.
Leg Supports: Leg supports are surgical table accessories designed to assist with clinical and patient needs during lithotomy, split leg, and reverse Trendelenburg set-ups.
Pad Positioners: Designed to resemble human tissue, pad positions help re-distribute pressure on a patient's body via anatomically specific contouring. This reduces the risk of pressure sores.
Restraint Straps: Straps can be used for pediatric, adult, and bariatric patients. They keep patients secure throughout any surgical procedure.
Table Operating Controls: Foot controls, or wireless hand controls make a surgical table easier to access during the procedure.
Premium Tabletop Pads: Premium pads for surgical tables are designed to improve patient comfort, manage pressure, and reduce the risk of tissue damage during lengthy procedures.
Transfer Boards: Transferring patients can be dangerous for both the patient and the healthcare worker if not done properly. A transfer board helps secure the patient and reduce strain on the healthcare worker's shoulders and lower back.
X-Ray Tops: Radiolucent X-ray tops mount onto a surgical table with space to insert flat x-ray cassettes into the side, head, or foot of the table.
In addition to general-purpose accessories, there are also additional accessories for specific procedures.
For example, surgeons working with pediatric patients might need to purchase child-sized pediatric stirrups to secure a patient's feet during the procedure.
What Type of Service and Warranty Support Is Offered?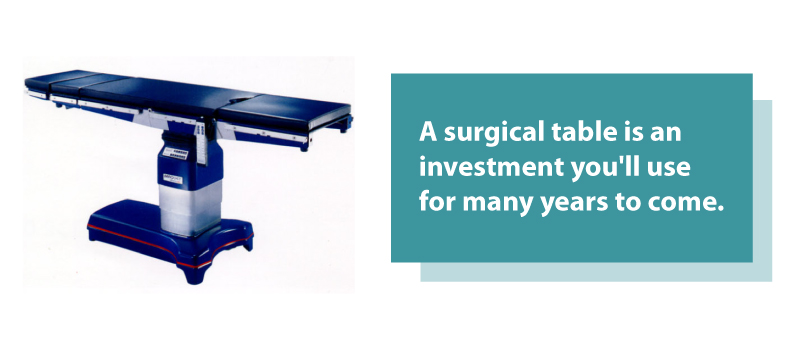 A surgical table is an investment you'll use for many years to come.
A reliable table will be backed by an extended warranty. At Meditek, we provide repairs, upgrades and warranty work for everything we sell.
When you purchase an operating room surgical table from us, you can count on cross-country support from our team of local experts.
This allows you to focus on serving your patients with complete confidence.
Are You Interested in a Remanufactured Surgical Table?
Regardless of your particular clinical needs, a new surgical table can be a significant expense.
To save money, you may wish to consider remanufactured equipment.
Meditek specializes in selling used, remanufactured, and refurbished medical equipment to medical providers across Canada.
Meditek's ReNew remanufactured surgical tables come with a minimum two-year warranty covering both parts and labor.
We can also perform repairs on your existing equipment, such as correcting tabletop drift and replacing aging hydraulic components.
We have a large selection of on-hand parts to reduce downtime for your facility, and we can provide loaner tables.
How Can I Learn More?
At Meditek, for more than 30 years we have supplied Canadian healthcare providers with the tools they need to perform procedures.
We understand how important it is to make informed choices when buying equipment.
Ultimately, every healthcare provider is different and there is not a single guide that can provide a comprehensive overview to choosing the right OR table.
There is no substitute to sitting down and assessing your needs with a knowledgeable supplier.
To get started, contact Meditek and get connected with a sales representative in your area today.
---
Continue Reading About Price and Options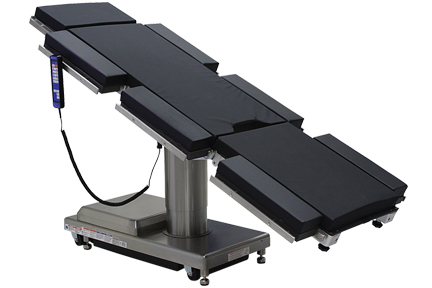 Having sold surgery tables since 1981, one of the most common questions we've been asked here at Meditek is…
---