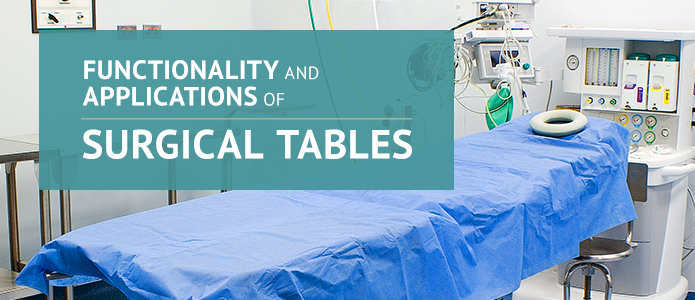 Advances in design and technology have increased the importance and role of surgical tables as a functional part of any procedure.
Whether in the operating room or performing an orthopaedic scan, newer model surgical tables help make medical workers' jobs easier and patients more accessible by offering more than just being a solid surface.
It's tempting, in an era when our watches can connect to the internet, to put an unlimited number of gadgets and gizmos on surgical tables.
They can become so loaded with extras, however, that a surgical table's primary function is overlooked.
As a general rule of thumb, we know it's best to keep surgical tables as simple as possible, as to avoid mistakes in the OR due to insufficient training or knowledge about the table.
We offer different types of operating tables for sale, each with separate functionalities, that are perfect for what you need in the moment.
Not every procedure requires a catheter tray extension, for instance, but it's helpful to have in many cases.
One aspect of surgical tables that does stay the same in every case is patients' comfort — and it should be one of the most important.
Medical facilities want their patients at ease and in the least amount of pain possible, which also plays into our surgical tables' differences depending on the procedure.
The key to providing the right surgical table is understanding what is needed when and varying the design accordingly.
Read on for our guide to different types of surgical tables and what benefits they can provide to a hospital or medical group.
Surgical Table Types
Here is a breakdown of some of the different surgical table types and their features:
1. General Surgery Tables
When most medical professionals think of a surgical table, the general surgery table comes to mind. The best tables allow easy patient access. A few things to look for in a good general surgery table include:
Accessibility: Doctors need the ability to adjust the table high or low, to allow them to gain access to the part of the patient being operated on. Angle adjustment capabilities can also help the doctor reach the surgical area more comfortably and safely
Stability: The anesthesiologist also needs access to the patient before the procedure begins. Because positioning placement and precision are critical to delivering the right dosage of anesthesia, the surgical table must be steady and cannot sway or move if the patient's weight or position shift.
Imaging support: Surgeons increasingly use minimally invasive laparoscopic procedures, making imaging support more important. A general surgical table should include imaging support features. This will help prevent expensive future upgrades while also ensuring operating rooms are equipped for a wide range of advanced and innovative surgical procedures.
Support for larger patients: One of the realities of 21st-century surgery is an increased rate of obese patients. In fact, according to the Canadian Obesity Network, one in four adults and one in 10 children in Canada are clinically obese. That's roughly six million people.
High-quality surgical care shouldn't be limited by the maximum weight allowances of surgical tables.
The standard table should, at minimum, be able to support a patient weighing 136 kg (300 pounds).
However, equipping an OR with tables that can support patients weighing 450 kg (1,000 pounds) or more may be more practical, since all indications are that patient weights will continue to increase.
2. Imaging Tables
While general surgery tables may provide a certain level of imaging support, the most advanced medical imaging procedures require specialized imaging tables.
Sophisticated imaging procedures help limit use of exploratory surgery and instead allow patients to opt for minimally invasive alternatives.
When selecting an imaging table, it's important to find one that allows the performance of imaging methods such as:
Any type of fluoroscopy, including vascular procedures
Any procedure requiring a catheter tray extension, such as cardiovascular procedures
Procedures requiring lateral/longitudinal float, Trendelenburg/reverse Trendelenburg, lateral tilt or height adjustment
Specialized 3-D imaging
Technology constantly changes the field of medical imagery.
It's important to ensure any imaging tables have been designed with the latest procedures in mind, even if your clinic or hospital does not offer such services yet.
They may be offered soon, and it's more expensive to upgrade surgical tables a short time later rather than get the most advanced option the first time.
3. Neurology Tables
Neurological procedures require precision.
Therefore, neurology tables should offer the best possible patient access through exceptional positioning, which will allow doctors to perform these surgical maneuvers.
Neurology tables also are designed to give medical professionals precise control over their patients' movement.
Accidental jostling can derail a neurological procedure, so any movements of a neuro table require a two-step process. That way, nothing gets moved accidentally.
Additionally, our neurology tables provide the following specific features:
A wide range of positioning options, such as a back section, lateral slide and tilt, longitudinal slide, Trendelenburg and elevation options
Electro-hydraulic operation that's easy to learn, with manual controls for positioning the head and back section
Precise foot-controlled tabletop slide functions, allowing surgeons and medical staff to make delicate movements hands-free
Surgeons should have the ability to offer input on a neurology table's complete configuration and optional attachments or accessories.
It's useful to have a rubber cover on the posturing control, for instance, so it does not slip out of the surgeon's hand when it's during the operation.
4. Orthopedic Tables
Canada's population is aging.

In fact, according to the most recent national statistics, there are more people over age 65 than children ages 0-14, a first in Canadian history. Roughly one in six Canadians are age 65 or older.
As the population gets older, the need for orthopedic care will also increase because bone mass declines when people age.
This leads to common orthopedic ailments among older people, including osteoarthritis, osteoporosis, fractures and dislocations.
Clinics and hospitals will need to expand their facilities to address these needs, including obtaining the necessary specialty orthopedic tables to help with an increase in procedures.
These tables have features offering greater patient comfort when they undergo procedures such as hip or knee replacements, shoulder operations, osteosynthesis and myelograms.
Functionalities may include:
Electrohydraulically adjustable shoulder plate
Integrated traction bars for traumatology extension treatment
Easy access for image intensifiers and X-rays
Special patient positioning for spinal column procedures
While aging may be the most common reason for needing an orthopedic procedure, these tables have broader applications as well.
Often people requiring knee and shoulder reconstructions, along with a wide range of surgeries addressing athletic injuries, use orthopedic surgical tables.
5. Urology and Cysto Tables
Urology and cysto specialty surgical tables are designed to give surgeons, doctors and other medical professionals access to their patients for delicate procedures.
Providing surgeons with precise control over the movements needed to complete these procedures greatly reduces the time spent in surgery.
This also cuts down on the risk of errors, and patients appreciate that. The less time they have to spend in an awkward position, the happier they will be.
The best urology and cysto tables incorporate precision foot controls and specific positioning functionality, allowing easy access to the small areas being treated.
Other advantages of surgical tables designed specifically for urology and cysto procedures include:
Maximizing access to the C-arm during imaging
Excellent positioning for seed implantation
Radiolucent extension used in brachytherapy treatment
Installation Support
For any of our surgical tables, functionality is contingent upon proper installation.
That's why we provide full-service installation support.
While working with an installation consultant may seem like an added step in the process of acquiring new surgical equipment, our support reduces the implementation time by streamlining the onboarding of new equipment and procedures.
In addition, our design experts are here to help you find the best surgical table solutions for the space you have.
Perhaps you face space constraints or specific interior issues that must be addressed — such as an oddly shaped room or a transition to a hybrid OR.
We will make sure you not only get the best table for your particular needs but that it will also be installed quickly and correctly, so you don't have to worry about it. You can keep your mind on the medicine.
We can assist you in all the stages of installation, from transport and setup to quality control.
Remanufactured Operating Tables
For those hospital and clinic administrators looking to cut costs without compromising on quality, our ReNew remanufacturing program for existing tables is an excellent solution.
Instead of replacing tables that still meet your surgical needs yet are no longer functioning as well as they once did, consider remanufacturing them to bring them back to as-new condition.
You can reap considerable savings by buying these types of tables. Still, many hospitals do opt for new surgical tables. Why?
Often it's a question of necessity. Malfunctioning surgical equipment may render an OR unusable until the equipment can be repaired.
Because surgical schedules are so exacting and OR time is so valuable, the risk of a malfunctioning table isn't worth the reduced cost.
However, our ReNew tables are not simply repaired and refurbished tables.
They are restored to as-new condition. They are expected to perform exactly the same as a new table.
These tables are kept to high standards. If a table has been determined to be incapable of performing at factory-new levels, it will not be offered as a remanufactured product.
Despite functioning at the same level as new tables, a ReNew table costs around half as much as a replacement.
For small clinics with equally small operating budgets or large hospitals or health authorities looking to replace a great number of surgical tables, this type of savings can free up considerable capital for other lifesaving measures.
Furthermore, the remanufacturing process will help you determine which tables are still functioning properly or might only require minor and affordable adjustments.
You can also find which ones need a more thorough remanufacturing.
By only performing extensive remanufacturing on tables that truly need it, you will save even more money, further alleviating pressure on increasingly stressed operational budgets.
Why Work With Meditek?
Since 1981, Meditek has been the leading provider of medical solutions for the Canadian health sector.
We began modestly in Winnipeg, MB, and we now provide representatives and consultancy across the entire nation.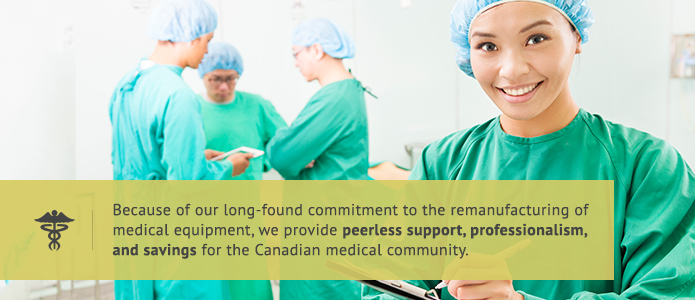 Because we have committed to the remanufacturing of medical equipment since the beginning, we are able to provide peerless support, professionalism and savings for the Canadian medical community.
Along with our foundational commitment to remanufacturing, we have expanded into other areas and products to provide medical solutions to clinics and hospitals across Canada.
We have been committed to environmental sustainability since our founding.
Reducing medical waste was one of the motivations behind our initial focus on remanufacturing.
Our environmental focus can be seen in our dedication to the charitable donation of tables and other medical equipment overseas.
Not only does this service help provide quality care abroad, but it also keeps used medical equipment out of landfills.
Even our packaging is environmentally conscious, as our reusable shipping containers have been in use for more than 15 years.
If you are looking for a premier surgical table provider from PEI to British Columbia, consider Meditek.
Whether you are looking for a new surgical table or would like to inquire about repairs or remanufacturing for existing tables, our courteous and professional sales and service representatives look forward to connecting with you.
Contact us at your nearest convenience for more information or to request a quote.
As a leading Canadian provider of medical equipment for more than 35 years, we have the experience and knowledge to help you find the best medical solution for your clinic or hospital.
We take quality care just as seriously as you do, and we know it's an honour to provide medical professionals with the tools to keep Canadians healthy.