Pressure ulcers are a common complication of prolonged prone positioning during spine surgeries. One in five people with spinal cord injury (SCI) will develop a pressure injury.1 And pressure ulcers can significantly reduce their overall quality of life. In one study, out of 381 patients with SCI, 65.3% reported that pressure ulcers reduced their activity to some extent or more.2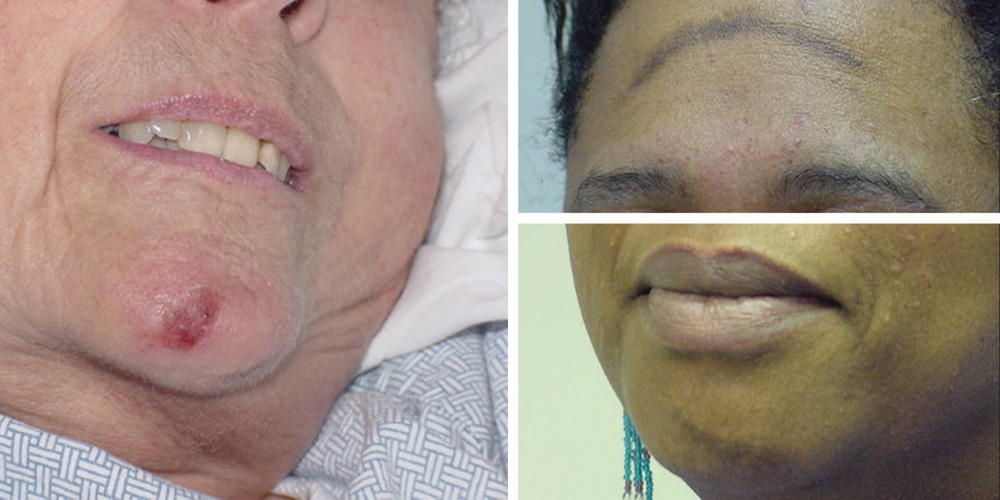 Do you want unique solutions for spine surgery in your operating room (OR)? In your OR, spinal equipment should offer unique, best-in-class solutions that reduce the risk for pressure injuries.
The prone position offers a myriad of benefits when surgeons need access to the posterior anatomic structures, including the head, neck, and spine. However, complications often arise due to increased pressure on the anterior side of the patient.
In this article, we discuss the benefits of prone positioning and the unique solutions for head positioning systems that you can implement in your OR.
The Case for Prone Positioning
Researchers first proposed prone positioning in the 1970s to improve gas exchange in patients with acute respiratory distress syndrome (ARDS). Since then, doctors have improved this strategy, and prone positioning currently has several medical applications.
Although the prone position is utilized in various surgical procedures, it is most commonly implemented during posterior spine surgery.3 But prone positioning comes with its disadvantages. And the complications that can happen are not only bad for the affected patients but also cause emotional effects on surgeons.
About 12.2% of surgeons felt that complications impeded their ability to perform their job, according to one study.4 Also, another study showed that "intraoperatively acquired pressure ulcers are reported to occur 5% to 66% of the time and are estimated to increase the cost of care by $5000 to $40,000."5
Prone positioning can cause various complications, including:
Pressure sores
Impaired ventilation
Vena cava compression
Increased epidural venous pressure and bleeding
Perioperative peripheral nerve injury (PPNI)
Postoperative visual loss (POVL)
Limb compartment syndrome
Thrombosis and stroke
Ischemia
Organ failure
Prolonged hospitalization due to complications
The most studied complication is POVL.6 Spinal surgery is the cause of 67% of POVL cases.7 The two main patterns of injury in POVL are ischemic optic neuropathy (ION) and central retinal artery occlusion (CRAO).
Proper padding of all pressure points on the patient is required in the prone position, including the face, eyes, ears, arms, knees, hips, ankles, breasts, and genitalia. Despite proper padding, the prone position still increases the risk for abdominal pressure. A study comparing three different face pillows on the market (manufactured by OSI, Dupaco, and ROHO) showed that even with the use of positioners on the forehead and chin, some patients got pressure ulcers in those spots.5 This is because pressure ulcers happen mostly at bony prominences.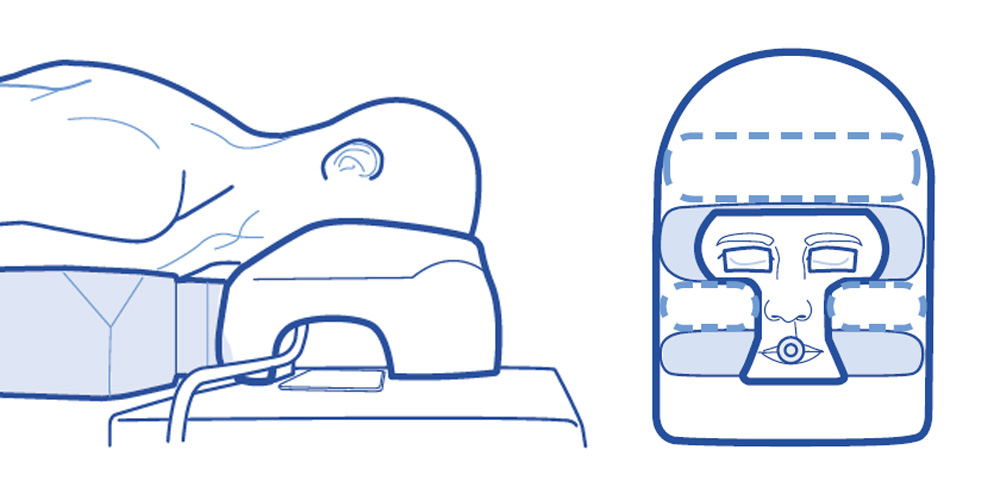 Therefore, you should partner with an industry leader that can provide quality spinal equipment and prone head support systems. Your equipment should adequately support the anterior anatomic features and ensure free abdominal wall motion.
Unique Solutions for Head Positioning Systems
To stay ahead of the game, medical device companies must present unique solutions that solve age-old problems. Meditek is a forward-thinking company. We've thought about the pain points and our experts are determined to resolve them.
To increase spinal surgery success and reduce pressure ulcers in patients, select cutting-edge solutions for head positioning systems and prone supports.
Several high-quality head positioning systems and spinal equipment, described in detail below, are designed to optimize a seamless flow in spinal surgical procedures and provide maximum comfort and protection for the patient's anatomical features.
Prone head supports provide support for the patient's face during prone procedures. Anesthesiologists need access to the patient's head during surgery as the patient is fastened to a tracheal tube in most cases. Usually, the anesthesiologist needs to re-check the positioning of the tube after transferring the patient to the table, and the prone head support allows access. Prone head supports also have open windows for the eyes and evenly distribute the pressure across the forehead and cheekbones.
Prone cushions are used in conjunction with prone head supports. They reduce pressure around the eyes and protect the sensitive eye nerves. Cushions in the upper chest and pelvic regions also increase the comfort and tolerability of the prone position. They prevent intraabdominal pressure that can build up around the lungs.
Unlike OSI, Dupaco, and ROHO-prone cushions that touch the chin and have been shown to cause pressure ulcers in some patients5, our Prone Head Support Systems provide a unique and innovative face cushion that has an open chin design. In essence, our face cushions do not touch the chin, hence reducing the risk for pressure ulcers. Our competitors may be pioneers in surgical suite solutions, but we are paving a new path to innovative cushion solutions that have never been offered before.

Prone view mirror platforms and prone view mirrors can assist with eye checks. Frequent eye checks can prevent CRAO.
Prone view headrest and contour head support cradle work hand-in-hand to protect the head from pressure injuries while keeping the head in a straight position during prone spine procedures. A quality headrest should also have side or bottom channels on the headrest through which anesthesiologists can access endotracheal tubes. An excellent headrest is the Prone Plus Head Support System, a complete system that includes a prone helmet and adjustable mirror, and can be used with the CS Prone Plus Face Cushion. An alternative product is the Mizuho ProneView Headrest for operating tables. The CS Contour Head Support Cradle by Care Surgical connects directly to the Allen®C-Flex® Head Positioning System.

A bow frame prevents an excessive inward curve of the spine (lordosis) that can result from an imbalance of the muscles that surround the pelvic bone. For example, the Mizuho OSI Wilson Frame is curved into a bow shape that helps support patients in a flexed position during spine procedures. The Mizuho Wilson Frame also allows for maximum hip flexion. A quality bow frame should also have radiolucency at the operating site to allow for permeability to X-rays if needed. Another radiolucent frame to consider is the Kyra Curve Spine Frame. The Kyra Curve Radiolucent Frame provides maximum lordosis for Laminectomy, Decompression, Disc Surgery and Microdiscectomy procedures.

Table systems continue to be adapted with progressive technology. They support a wide range of surgery positioning, including prone positioning. Table systems should include components like chest rolls, which allow the abdomen to hang freely (thereby decreasing the pressure on the abdomen).6 For example, the Mizuho OSI Jackson Table, now called the Modular Table System, is a versatile system that allows the abdomen to hang freely while supporting the spine, imaging, and orthopedic trauma procedures. Another benefit of the Jackson Table is its radiolucency, which means that X-ray images can be collected in the prone position.
Chest, Hips, and Thighs Support are used to support the body parts under the head during surgery. While the head is supported, the rest of the body also needs quality support, or your patients may complain of post-surgery injuries. Meditek offers high-quality products to support the chest, hips, and thighs. Moreover, our products are reusable and can provide savings and increased return-of-investment (ROI) for your OR.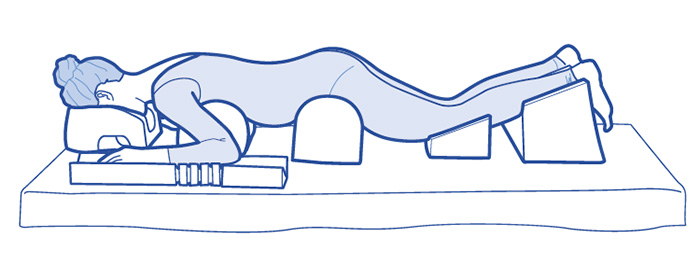 Bringing you world-class spinal equipment by partnering with Care Surgical
Meditek has partnered with Care Surgical to distribute prone and spinal surgical equipment, reusable head supports, and disposable face cushions Canada-wide. Care Surgical is a global company that provides safe and comfortable patient positioning products for various surgical procedures.
Meditek has positioned our quality head supports and other spinal equipment to reduce the risks of pressure ulcers in patients. We pride ourselves in developing innovative and future-facing products so that patients can have a post-surgery injury-free healing period.
As an operating room manager (ORM), you are the backbone of the OR. Stay current with evolving state-of-the-art technologies and methods, especially when they directly impact spine procedure success rates, patient recovery, and the return of investment (ROI) of your organization.
By partnering with Care Surgical, Meditek will deliver head positioning systems that will support you in producing a seamless experience during spine procedures.
To locate a Meditek team member in your area, contact our head office today.
---
References
Chen H-L, Cai J-Y, Du L, et al. Incidence of Pressure Injury in Individuals With Spinal Cord Injury: A Systematic Review and Meta-analysis. J Wound Ostomy Continence Nurs. 2020;47(3):215-223. doi:10.1097/WON.0000000000000633
Lala D, Dumont FS, Leblond J, Houghton PE, Noreau L. Impact of Pressure Ulcers on Individuals Living With a Spinal Cord Injury. Arch Phys Med Rehabil. 2014;95(12):2312-2319. doi:10.1016/j.apmr.2014.08.003
Asiedu GB, Lowndes BR, Huddleston PM, Hallbeck S. "The Jackson Table Is a Pain in the…": A Qualitative Study of Providers' Perception Toward a Spinal Surgery Table. J Patient Saf. 2018;14(1):21-26. doi:10.1097/PTS.0000000000000160
Helo S, Moulton C-AE. Complications: acknowledging, managing, and coping with human error. Transl Androl Urol. 2017;6(4):773-782. doi:10.21037/tau.2017.06.28
Grisell M, Place HM. Face Tissue Pressure in Prone Positioning: A Comparison of Three Face Pillows While in the Prone Position for Spinal Surgery. Spine. 2008;33(26):2938-2941. doi:10.1097/BRS.0b013e31818b9029
Kwee MM, Ho Y-H, Rozen WM. The Prone Position During Surgery and its Complications: A Systematic Review and Evidence-Based Guidelines. Int Surg. 2015;100(2):292-303. doi:10.9738/INTSURG-D-13-00256.1
Patient Positioning During Anesthesia: Prone Position. Clinical Pain Advisor. Published January 19, 2019. Accessed September 16, 2021. https://www.clinicalpainadvisor.com/home/decision-support-in-medicine/anesthesiology/patient-positioning-during-anesthesia-prone-position/