A Look at the Cost Savings of Pre-Owned Tables for your Operating Room
The idea that history repeats itself could be validated by looking at budgets for Canadian hospitals.
Yesterday, today, and probably tomorrow, we always hear about budget restraints and having to do more with less.
Essentially, this is how Meditek came into existence in 1981. We saw that hospitals could save huge money on capital equipment if they bought as-new instead of brand new.
What they needed was to get more value out of their capital dollars.
What they needed was the same medical equipment returned to them in as-new condition.
Thus, Meditek came up the revolutionary idea of remanufacturing surgical tables, and we've been doing it ever since.
Refurbished vs. Reconditioned vs. Remanufactured Surgical Tables
When it comes to remanufacturing a pre-owned surgical table, there are a lot of similar-sounding words that companies use, all of which have a slightly different meaning.
"We sell refurbished surgical tables."
"We sell reconditioned surgical tables."
"We sell remanufactured surgical tables."
If a company refurbishes a table, think of it as getting a new paint job and tune-up for your car.
It will look new, but the components and functionality of the car generally haven't been touched.
For reconditioning a surgical table, think of it as that same car getting a front-end alignment in addition to a new paint job.
With remanufacturing a table, think of it as the same car getting a rebuilt transmission, new brakes, replacement of all worn parts, front-end alignment and paint job.
Depending on what word a company uses, not only will the price differ but also what you are getting in return.
Make sure to ask what the company's process involves.
If they are not willing to tell you specifically that worn items are not getting replaced, ask yourself why not.
Remanufacturing Your Existing Table vs Buying a Remanufactured Table
If it's a Friday afternoon and you're already in weekend-mode, you may not have distinguished the difference between remanufacturing your existing table and buying one. That's okay – happens to everyone.
Two scenarios:
You have an operating room table that is breaking down or in need of repair, and the repair bills are piling up.
Your capital budget doesn't have $50,000 for a new surgery table, and you cannot justify throwing money down the black hole of constantly repairing it. What do you do?
Since your team is already familiar with your table's specifications and if it already meets your needs, the option of remanufacturing might be best.
Because you are remanufacturing the OR table and not just refurbishing, you know that the table you get back is going to be in as-new condition and not just have a better paint job than it does now.
The other option is to buy a remanufactured OR table.
Maybe your table is a little outdated and it's time for an upgrade; or, maybe you still want the same model but your existing table is not worth remanufacturing.
Whatever the case, buying a remanufactured table is a little more expensive than remanufacturing your own, yet still much cheaper than buying brand new.
I want to remanufacture my surgical table – can I get a loaner table?
Another variable to consider is if you need a replacement table while you wait to get your table back.
Do you have another backup table already? If not, it might be a good idea to ask the vendor for a loaner table.
Some companies will have tables in stock, while others may not be able to accommodate this request.
Meditek, for example, has on average about a dozen varying loaner tables in stock at any given time.
The average time to remanufacture a table is 4 to 6 weeks, so if you use a backup table and could send in yours during a slowdown in cases to get away without a loaner, the cheaper it will be for you.
With a loaner table, expect to possibly pay for the shipping there and back, in addition to a rental fee.
The vendor might also require insurance.
Current Table Condition
Just like everything else that needs repair, the current condition will dictate how much it costs to fix everything and the time it takes.
A table with floor locks that won't work correctly is different from a table that is leaking hydraulic fluid.
You can have your table evaluated to see what the best course of action is, as the table might not be worth fixing.
Warranty – A Telltale Sign of Workmanship
Any company that is willing to stand behind their work with an industry leading warranty on remanufactured equipment is stating, and proving, that the as-new table you get is of the highest quality.
Getting extended warranty on remanufactured equipment may not be available.
That's why it's so important to look at the warranty you get with it. This is another example of where all those "Re" options can affect the warranty.
Typically, a refurbished OR table might come with a 90 day warranty. As scary as it is, we have seen as low as a 30 day warranty from some refurbishing companies.
A lot of times, this is a case of you get what you pay for.
A reconditioned or remanufactured surgical table from most companies will typically come with a one-year warranty.
Remember to read the fine print. Does it come with parts and labour warranty, or just parts?
Ask the questions that need to be asked, however insignificant or cumbersome they may seem.
Is it a limited warranty? If so, which parts of the warranty are limited?
Are there any parts that are not directly included in the warranty, whether it be limited or not?
Is there a limit on the cost of parts and or labour that is covered?
Other companies go even further and offer two-year parts and labour warranties.
These companies are very confident in their ability to remanufacture a table to as-new condition.
With any type of refurbishing, reconditioning or remanufacturing, look for a company that has transparency and openness with their warranty.
Table Technical Specs
In some of our other articles for how much a general surgery table costs and how much an orthopedic table costs, we talk about how the specifications you require for your table can affect the price.
However, since one of the options we are talking about here is remanufacturing your existing table, you have an advantage in that you already know the specifications.
Of course, for the other option of buying a remanufactured table, you would need to consider the specifications and features, assuming you buy a different model than what you had.
Here are a few more common ones to consider:
Auto-drive
Removable back and leg sections
Back lit hand pendant control
Kidney Elevator
Return to level
Top slide
Manual override controls
Table Longevity
Many years ago, you bought an expensive surgical table that is now a little unbecoming.
The first instinct for many people is to start looking for a new table.
Remanufacturing is a way to get more value out of your table.
We illustrate the value of remanufacturing below: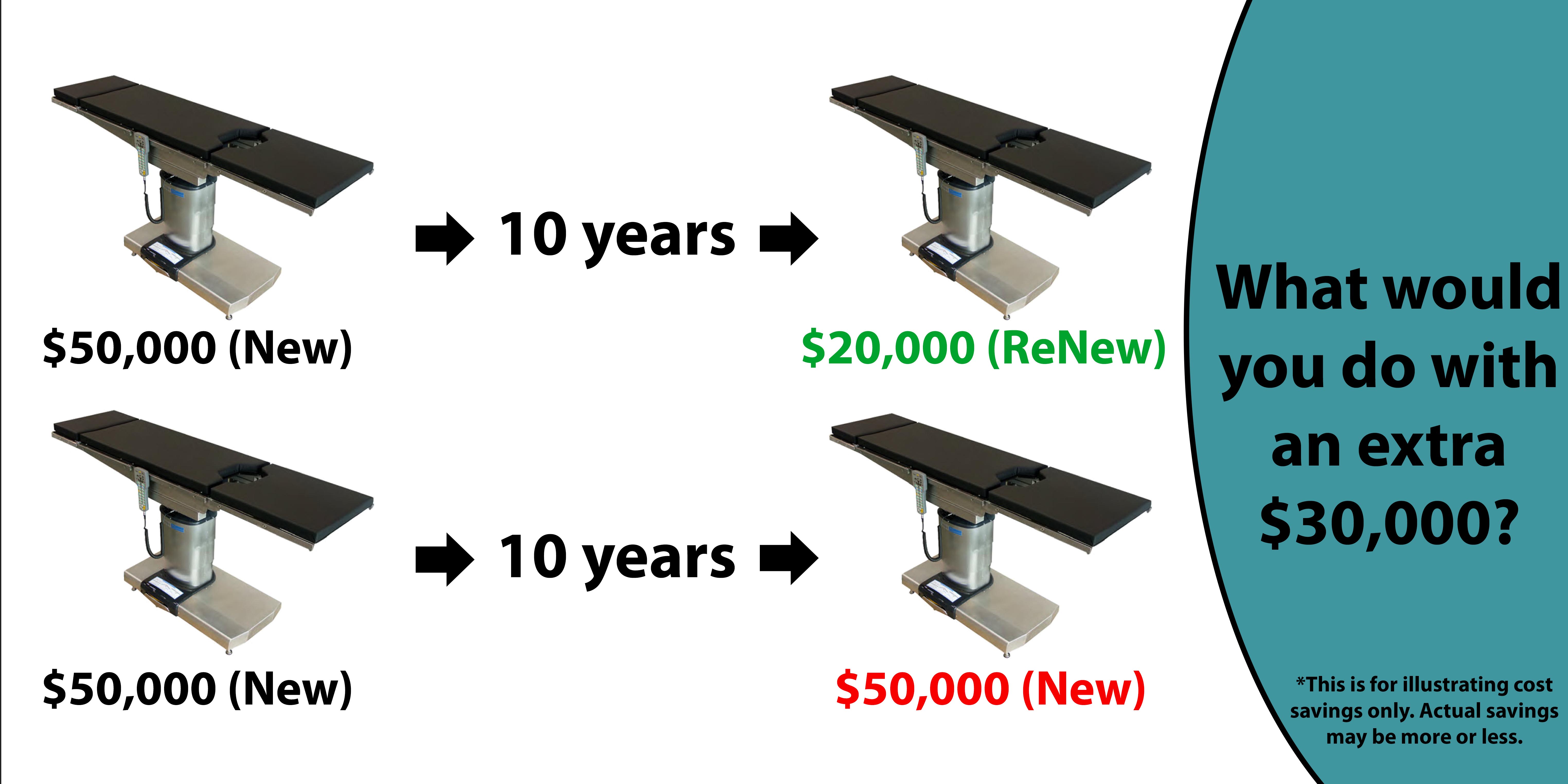 Shipping in Canada
For remanufacturing your own table, some of you may think, "Well, I have to pay to ship it there AND back." This is totally true.
The table has to get to us, and we have to send it back to you.
But even still, the cost savings that come with remanufacturing your table makes this irrelevant when you consider that this is going to cost you a maximum of $500 round trip.
Volume Discounts, Trial Periods and More
As with almost everything, the more you buy, the better the price gets – same thing with refurbishing or remanufacturing.
If you have a fleet of tables, the price to refurbish or remanufacture each table decreases.
Real example: A major health authority is currently contracted with Meditek to have several dozen operating room tables remanufactured.
To buy new, the cost would have been in the millions. However, they are literally saving hundreds of thousands of dollars by remanufacturing their tables all under the same contract.
If you are remanufacturing your own table, another cost that you are eliminating is that of a trial period.
Your staff will already be familiar with it, so there is no need for evaluations and analysis.
Moreover, if the table comes back to you with a solid warranty, such as two years parts and labour, you really have nothing to lose.
There's no shame in wanting a trial period for a table that's not yours.
After all, new, refurbished or remanufactured, there is still a significant cost. As a business, you have to know that you're making good, calculated choices.
If you do decide to remanufacture your table, there's a good chance that you already have surgical table accessories such as clamps, transfer boards, stirrups, drain bags and hoops, etc.
Since it's the same table, there's no need to spend any extra on accessories.
However, with the lower cost of remanufacturing, there may be some room left in the budget to upgrade a few accessories.
Other questions to consider:
What are the payment terms, such as net days, early payment discount, rebates, etc.?
Is there a trade in credit available for existing equipment you may have?
Do you require training? Is it included in the price? Is factory training included? What about manuals, videos, etc.?
Cost of Refurbishing or Remanufacturing Your Surgical Table
Now that we've gone over the considerations for refurbishing or remanufacturing a surgical table, it's time to discuss the cost.
To reiterate, we talked about a few options:
Refurbishing your surgery table
Buying a refurbished table
Remanufacturing your own table
Buying a remanufactured table
With all four options, the price will greatly depend on the brand and model.
For example, a Steris 3085 surgery table will be lower than a Skytron 6302, regardless of which quality level option you choose.
Since all of these don't really answer the question very specifically, we've put together some ranges that you could expect to see:
| | | | | |
| --- | --- | --- | --- | --- |
| | Refurbish Yours | Buy Refurbished | Remanufacture Yours | Buy Remanufactured |
| Steris 3085 | $10,000 | $15,000 | $15,000 | $28,000 |
| Steris 4085 | $12,000 | $20,000 | $18,000 | $35,000 |
| Steris 5085 | $12,000 | $25,000 | $18,000 | $35,000 |
| Skytron 6302 | $12,000 | $20,000 | $18,000 | $32,000 |
| Maquet 1133 Alphamaxx | $12,000 | $20,000 | $18,000 | $30,000 |
*Please note that prices are estimations and may change without notice.
---
"Remember, the bitterness of poor quality lingers long after the sweetness of a low price is forgotten".
---
Additional Resources
In 1981 Meditek was founded on remanufacturing surgical tables.
Since then, our expert technicians have fixed pretty much every table that can be found in Canada.
Our staff takes great pride in being knowledgeable about what's on the market and how to best find the right fit for you and your facility.
We encourage you to learn about us and make us your healthcare equipment resource.
Wait! Ask yourself this question: "Am I at the point where I am ready to make a purchasing decision?"
If the answer is no, we invite you to learn more about the remanufacturing process, and if it is the best fit for you. Check out the links beow:
Meditek Remanufactured Surgical Tables
If the answer is yes, please fill out the form below to get a call back from one of our experts.