Arm Supports are Basically Generic, So How Could the Price of Arm Supports Be So Different?
That is a great question. When we think arm supports, the first thing to come to mind is a platform that fastens onto the side of a surgical table with a clamp, and has a pad on top.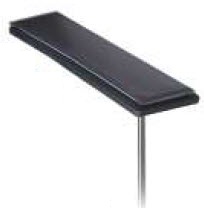 Pretty basic stuff.
But…here's the thing: when you're looking for arm support pricing, the difference could be hundreds of dollars.
To really nail down the question of how much arm supports cost, let's look at a few determining factors.
What Purpose Do Armboards Have?
The primary purpose for arm supports is positioning.
Poorly positioned arms can result in nerve damage for the patient.
Even while performing shorter surgical cases, pressure points can develop on the patient's skin.
Let's not forget about patient comfort.
It wasn't always that medical equipment was designed with patient comfort as a top priority, but nowadays, it is one of the most determining factors in medical equipment design (so much so that some manufacturers have special ergonomic programs that are incorporated into every product they sell).
In fact, according to a 2013 patent for arm supports, even within the last decade back surgeries were "being performed using a localize anesthetic. In the absence of an arm support, patients are placed in a prone position with their arms dangling down. As surgery progresses, the patient becomes increasingly uncomfortable with his or her arms dangling down, which prompts the patient to attempt movement. Such movement during delicate back surgery can be hazardous to the health and safety of the patient."
Source: https://www.google.com/patents/US8745790
Types of Arm Supports
In order to narrow down the type of arm support you need, let's take a look at what is actually available.
Basic Arm Supports

Your basic arm support consists of a pad on top of a platform that fastens onto the side of your surgical table with a clamp. Nothing fancy, but it will achieve a basic arm positioning.
Multi-task Arm Supports

What kind of procedures do you perform? Think about the patient positioning involved in each procedure such as lateral, supine, prone and seated patient postures. Do you need all of these, or do you only perform back procedures in the prone position, for example?
Height Adjustable Arm Supports

How confident are you that you may or may not need to adjust the height of the arm support? Remember that the more functionality you want, the more expensive the arm support will be.
Carbon Fiber or Radiolucent Arm Supports

Do you need to perform any imaging after the patient is in the preferred surgical position? If this is the case, then perhaps a carbon fiber arm support is what you need. Keep in mind that these may need to be uniquely attached to a carbon fiber extension if the table does not have an imaging-friendly tabletop.
Extra Wide Arm Supports

Performing surgery on a bariatric adult patient and a child are very different. Even with an arm support restraint strap, an adult bariatric patient's arm might not be secured enough on a regular arm support.
Surgery Table Armboard Material
If you're not specifically needing carbon fiber arm supports for imaging, inquire about the material used.
A solid arm support will have cast aluminum and steel construction.
*Note: Being a healthcare facility in Canada, most likely you will have a popular North American surgical table. Be sure to check that the arm support you buy fits North American standard operating room table siderails.
Specialty Arm Support Systems
Two arm support systems that are really in categories of their own are the Singer Starr Stacker and the Krause Arm Support.
The Singer Starr Stacker is billed as the "the most innovative, cost-effective and safe solution available for lateral patient positioning". The stackable arm and leg cushions are grooved and contoured to independently support upper and lower extremities, in addition to a special armboard.
The Krause Arm Support system uses an articulating post and a curved frame covered with a stockinette to suspend and cradle the upper arm, while the lower arm rests on a lateral arm support.

*Note: Sometimes it is spelled Kraus, whereas similar devices are called Kross arm supports.
Arm & Hand Surgery Tables
Arm and hand surgery tables differ from the generic arm support category in that their intent is to be more than just a positioning aid.
This specialized surgical table accessory provides dependable stability and offers better access for the surgeon, when performing surgical procedures on the patient's arm.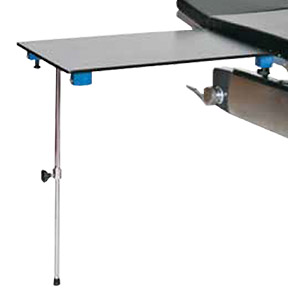 Three main differentiators for arm and hand tables:
With foldable leg support
Without leg support
Rectangle or hourglass shape
Most arm and hand surgical tables will be radiolucent and some will require two clamps for mounting to the side of the OR Table.
Arm Support Accessories
How can a generic surgical table accessory have accessories? I know, right?
But, it is true. Here are some of the accessories that you can get with or upgrade to:
Cushions – Your generic arm support will probably come with a 2" cushion. Depending on your patients, you might want to upgrade to a 5" cushion.

That being said, make sure to confirm that a cushion comes with the arm support at the time of purchase.
Also, if you are really curious, ask about the quality and construction of the cushion.
One important factor – is the cushion radiolucent and electrically conductive?
Clamps, brackets and sockets – You may already have what you need to clamp the arm support in place, but if you don't make sure that you get the proper locking mechanism. While some arm supports may require a Sure Clamp, others might need a Secure Lock Bracket or a Clark Socket.
Restraint straps – Securing your patient's arm will most likely require a restraint strap. Not only do you need to know the material of the strap but also the length and width. For example, a two-inch restraint strap might not be best suited for a bariatric patient.
Arm shield – The standard dimensions of arm shields range from 8" to 10" in height by approximately 16" in length. The most popular version is made from Plexiglas, which is flexible  and easy to clean.

As an added comfort option, you can always get a re-usable viscoelastic polymer gel pad, which will greatly reduce the risk patient injury including decubitus ulcers caused by shear friction.
Cost of Arm Supports
The important thing is finding the right fit for you and your facility.
Here are a few ranges on the different types of arm supports.
Please keep in mind that prices will vary by manufacturer, cushion or no cushion and if clamps are included.
| | |
| --- | --- |
| Basic arm supports | $400 to $600 |
| Multi-task arm supports | $900 to $1,300 |
| Height adjustable arm supports | $450 for basic to $1,900 for multi-functional |
| Carbon Fiber or Radiolucent Arm Supports | $1,200 to $2,000 |
| Extra Wide Arm Supports | $900 to $1,400 |
| Sure Clamp | $500 to $700 |
| Clark Socket | $250 to $400 |
| Restraint straps | $30 to $80 |
| Basic arm protector without padding | $350 to $400 |
| Singer Starr Stacker | $1,100 and $1,300 |
| Krause arm support system | $1,800 to $2,100 |
| Lower end, non-carbon fiber arm and hand surgery table | $1,400 to $1,700 |
| Average arm and hand surgery table | $1,800 and $2,200 |
| Higher end carbon fiber arm and hand surgery table | Around $5,000 |
*Please note that prices are estimates and may change at any time.
Who are some of the main manufacturers of arm supports?
Pretty much every surgical table manufacturer will have arm supports as an accessory to their own tables, but so will aftermarket manufacturers that look to make a one-size fits all.
With so many options, we figured that it would be good to list the three most popular arm support manufacturers:
What Can Meditek Offer?
All of us here at Meditek make it our business to know as much as we can about operating room equipment.
We strongly encourage you to use us as your healthcare equipment knowledge resource.
Contact us with any questions you may have about arm supports or Operating Room related equipment.
---
Get Your Arm Support Quote Below