Hybrid ORs are the way of the future
Calgary's Foothills Medical Centre recently made headlines for a surgical milestone: leading a clinical trial of the world's smallest pacemaker. The device, which is inserted via a minimally invasive procedure in one of their Hybrid ORs,
doesn't require external cords or a power source. It also has a ten-year battery life. For patients with heart arrhythmias, the procedure and the device have led to faster recovery times and improved quality of life — important advantages when managing cardiac conditions.
Foothills Medical Centre is one of only a few clinics worldwide testing this important device. The facility's Meditek-designed Interventional Cardiac Operating Room (ICOR) was instrumental in providing the advanced capacity necessary to accommodate this sophisticated procedure.
About the Procedure
The miniature pacemaker measures three centimetres long and is no wider than a pencil. It is inserted into the groin area and guided up into the lower right chamber of the heart using an x-ray. The procedure itself takes no more than an hour, does not require the use of general anesthetic, and has a recovery time of one week as opposed to four. Forgoing conventional surgery reduces the risk of infection and other complications, while freeing up valuable OR space and maximizing the availability of specialized staff.
Meditek's Role
Meditek was involved in all stages of the design and planning of Foothills' hybrid operating room. Working with the facility's purchasing team, we identified upgrades to their existing OR that would allow the installation of sophisticated lighting and imaging technology. Meditek personnel was present throughout the project, from the initial consultation to the installation.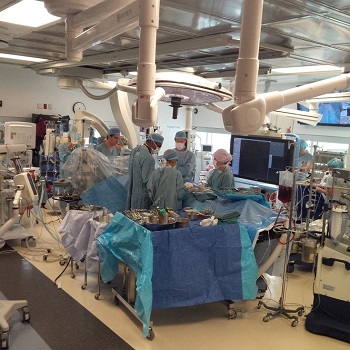 Our team installed a full integration system featuring wall cameras and surgical lights, flat-screen arms, booms and other hardware. During the project, our goal was to preserve the original space as much as possible, while organically integrating more advanced technologies. The $6 million renovation was completed in 2013. At the time, it was only the second facility in the world capable of providing specialized care to trauma patients with bleeding control issues.
Form Meets Function
Foothills Medical Centre's ICOR has experienced several important benefits, including:
A larger, high-definition flatscreen monitor capable of clearly displaying surgical imaging results
Specially designed reach arms that allow for expanded positioning options within the room, providing a better viewing experience and more streamlined workflow.
A dedicated angiography suite in the room, where surgical and imaging teams can work together to expedite procedures such as the pacemaker insertion.
For the more than 200,000 Canadians currently living with pacemakers, the prospect of a smaller device that is easier to insert is one that should be celebrated. At Meditek, we are proud of our partnership with Foothills Medical Centre and our role in potentially bringing this lifesaving new technology to cardiac patients across the country.