Kyra Stirrups improve on outdated design.
For as long as anyone can remember, the name Yellofins® has been recognized as the undisputed industry leader for lithotomy stirrups.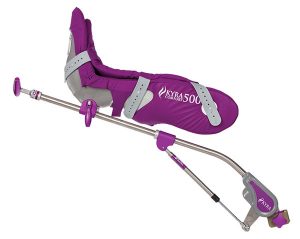 That is…until now.
There is a new standard for lithotomy positioning – the KYRA COMFORT™ Stirrups.
The new Kyra design substantially improves on the 20+ year old Yellofins® design!
This article will explain how and why KYRA COMFORT™ Stirrups are an improved version of gynecology stirrups, and we'll back up every claim with hard facts.
Goodbye pinch points
Even Yellofins®, as good as they are, present potential for injuries to patients and staff via pinch points.
One of the objectives when designing the new KYRA stirrups was the elimination of pinch points.
With stirrups specifically, there are several areas where pinch points happen most often.
High lithotomy
Low lithotomy
Inadvertent actuation
KYRA stirrups eliminate the need for hard-to-clean guards, as the curved support rods remove dangerous pinch hazards that traditional stirrups present. The distinctive "blade design" also eliminates pinch hazards when mounting the stirrups onto table rails, as opposed to traditional stirrups.
Lost clamps, or not being able to find any, are a thing of the past
Clamps, for the most part, have always been a separate surgical table accessory, completely independent of the main accessory.
How many times have you had to look for a set of clamps, or the right type of clamps because there was none to be found?
How much time did each of those instances take?
How much time overall have you lost to not having clamps (number of times x time of each instance)?
With the KYRA stirrups, you have the option to order them with the clamps fixed to the stirrup. You'll never need to look for clamps again!
*Note that the clamps are attached by way of some bolts and can always be easily removed by maintenance should you wish.
More padding = more comfort
Because of the boot design, KYRA stirrups are able to accommodate 0.5" more padding.
Not only does this help with pressure relief, but the padding also protects the medial and lateral aspect of the ankle.
Better infection prevention
Basically, every medical stirrup on the market uses some type of strapping system similar to Velcro®.
From the clinician input that was solicited when designing KYRA stirrups, this was identified as an area to improve infection prevention. Instead of Velcro®, Kyra stirrups come with the option to have SECURE-LOK™ CLOSURE STRAPS.
No more trying to get contaminants out of the bristles – A simple cleaning cloth with disinfectants will make sure you leave the straps infection-free (assuming you follow proper cleaning and disinfecting procedures).
More stirrup boot flexibility
The KYRA DURAFLEX™ Stirrup Boot is a flexible boot so that larger legs cradle into the crevasse more comfortably.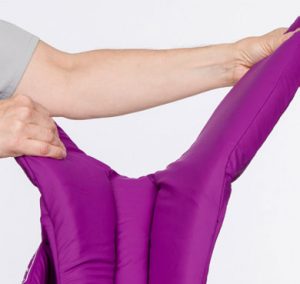 The boots have two other very important features:
Allows extreme inversion/eversion of the foot
Eliminates the potential of contact with hard boot boxes present on traditional stirrups
More lithotomy and abduction ranges
Surgical stirrups, in general, will have two main positioning ranges.
Yellofins® Stirrups ranges are as follows:
Lithotomy
Abduction
Yellofins® Elite with Lift-Assist™
+84° to –33°
+25° to –9°
Yellofins® with Lift-Assist™
+84° to –33°
Yellofins® without Lift-Assist™
+90° to –35°
KYRA's ranges are as follows:
| | | |
| --- | --- | --- |
| | Lithotomy | Abduction |
| KYRA Comfort™ Stirrup | +85° to –55° | +25° to –9° |
Dethroning the industry leader in stirrups
We definitely don't want to give the wrong impression – Yellofins® are still very relevant.
They are still one of the leading brands of stirrups on the market.
But, like most things that enjoy a lengthy run at the top, if you keep everything status quo, eventually something new and improved will come along and dethrone you.
KYRA did just that. They identified what was either wrong or could be improved upon with traditional stirrups and went to work on making a new standard in lithotomy positioning.
Additional Resources
Meditek is the exclusive Canadian distributor for KYRA COMFORT™ Stirrups. Kyra's design and creation come from a powerful group of healthcare industry leaders with extensive amounts of experience in medical products.
Meditek is also an established remanufacturer of Yellofins® stirrups (please note that we have no affiliation with Allen Medical Systems, Inc. or Hill-Rom Inc.). Each pair of Yellofins® we remanufacture come with two-year parts and a labour warranty. Our ReNew remanufacturing program replaces worn and damaged parts with OEM components.
In conclusion, KYRA is the stirrup that is best suited for today's needs in the OR. With key improvements on a 20+year-old design and new features, you need to check this stirrup out!
Contact us today for your KYRA quote!
* Yellofins® is a registered trademark of Allen Medical Systems, Inc.
* Lift-Assist® is a registered trademark of Allen Medical Systems, Inc.