Meditek, a provider of innovative hospital products, is excited to announce the newest addition to its evolutionary line of patient transfer devices the Stryker Glide System
With exclusive rights recently granted to Meditek to sell the Stryker Glide in Canada, the Lateral Air Transfer product has already proven to be in high demand.
"Within the first week of the product launch, we already received multiple requests from hospitals in Ontario and Alberta for this system," states Brad Samuels, Marketing Manager at Meditek.
The Stryker Glide Lateral Air Transfer System reduces the potential for back injuries during lateral transfers via an inflatable mat that lifts and floats the patient between two surfaces. The cushion of air allows the nurses to transfer the patient with minimal effort, including bariatric patients.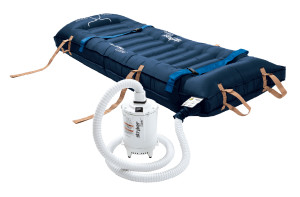 "The best way to think of the air assisted system is like a hovercraft or air hockey table. There are little holes in the bottom where air flows through, creating a separation between the surface and the mat," explains Brad Samuels. "This makes it almost effortless, as well as much safer, for caregivers to transfer patients."
The Stryker Glide system is comprised of three parts:
Stryker Glide 3062 Inflatable mats
Stryker Glide 3060 Lightweight blower (supports patients up to 1,000 lbs)
Roller tote for storage and transportation
Features & Benefits
Laterally transfer patients easily and with less risk of injury
Air assisted transfer technology lets patients ride comfortably on a cushion of air
Safety straps secure patients to the transfer mat
Complete system conveniently stores in roller tote
Thermal protection for patient safety
Machine-washable transfer mat and urethane-coated nylon pull handles make cleaning convenient
Water resistant and non-latex
Customers have three width sizes to choose from, all of which are 78" long:
28" small transfer mat (500 lbs capacity)
32" large transfer mat (700 lbs capacity)
46" bariatric transfer mat (1000 lbs capacity)
According to an independent study on lateral patient transfers by Andrea Baptiste, MA (OT), CIE, air assisted devices consistently finished in the top two spots for minimum peak force required.
"Essentially what we've done is acquired two top rated products for lateral patient transfers on the Canadian market. Whether it's Samarit transfer boards or the Stryker Glide, our customers now only have to go to one place for either," remarks Brad Samuels. "This is another example of how Meditek pro-actively searches out the best proven technologies, which puts us in a very unique situation of being able to offer the best as opposed to just what's available."
Meditek is committed to providing Leadership, Innovation, Focus and Excellence for healthcare in Canada.
Contact Information:
Brad Samuels, Marketing Manager
Meditek
1.800.567.8400
[email protected]
www.meditek.ca