Log In for Pricing
scrubEx is the world-wide leader in scrub supply and dispense automation
Benefits of scrubEx:
Reduce scrub purchases by 90%
40% decrease in laundering costs
Reduces the risk of surgical site infections by following AORN compliance guidelines
Increase surgeon and nurse efficiency by delivering the clean scrubs only when needed
Secure machines reduce theft
Prevents hoarding of scrubs
Fast, Easy & Proactive
2.1 seconds! That's how long it takes to dispense a set of scrubs, much faster than looking through a ransacked cart.
Surgical staff use existing badges or identification to access scrubs.
Data reporting in real time. Improve staff satisfaction and gain insight into size utilization and scrub inventory with customized alerts.
clearView – Linen Management Software
A key component to the efficiency of the linen management system for scrubEx and alEx is the clearView data software that tracks inventory in real-time.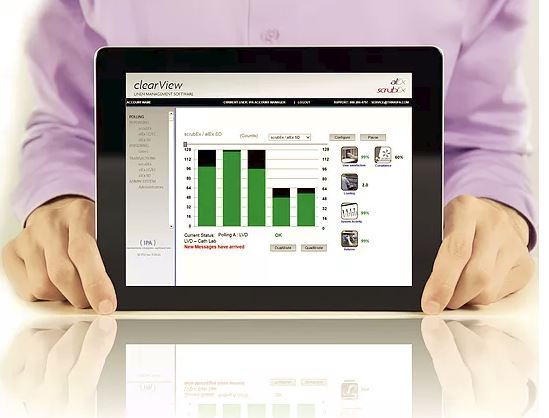 Supply staff get instant notifications to their phone or computer when something is running low, so you avoid ever running out.
The data can be analyzed for better data-driven decisions to lower costs even further.
Measuring and managing everyday budget dollars is as easy as glancing at the dashboard or going into the utilization reports.
This web-based system allows for proactive inventory level monitoring from anywhere at anytime.
---
Easy to Use – Manage both scrubEx and alEx from one central location
---
Interactive – Custom notifications send email and text alerts when scrubs or linen inventory reaches a pre-determined threshold
---
Remote Hosted – Save on valuable server resources as clearView is provided from a central, remote-hosted location
---
Watch the real time video to see how fast & easy it really is!
Can't see the video above? Click here
Related links: