As Canadian medical professionals, there's no need to tell you that time is one of the biggest factors in a medical emergency. Having trauma or emergency stretchers with X-Ray capabilities on hand and ready to go is critical to a successful outcome.
Trauma stretchers, like other hospital equipment, may contain similar features and functionality, and that makes it hard to distinguish which one is the right X-Ray stretcher for your needs. One thing to look for, in terms of distinguishing brands and models, is the ease of use and the reaction time for functionality.
With this article, we plan to give you a comprehensive review of the most popular trauma/X-ray stretcher brands and models in Canada.
Having everything in front of you all at once will cut down on the time and effort you'll need to put into researching.
Please note that we are only including stretchers that have full-length imaging capabilities as a standard feature.
Note: The following are in alphabetical order and all information is public. We aim to consistently bring you unbiased and factual information.
---
Be sure to download the technical specifications of all the stretchers at the end of the article!
---
Amico Trauma Stretcher
With its fully radiolucent litter section, the Amico Trauma Stretcher is protected at the ends and on the sides by roller and side bumpers.
Overview
This stretcher comes standard with a 3" foam mattress and defibrillator tray.
Features & Benefits
Collapsible siderails
Central brake locking system
Four IV pole receptacles
Roller bumpers
Fifth wheel steering
Stationary foot end litter
Hydraulic lift system
Integrated foot push handle
Head and foot-end mattress retainer
Foley bag holder
ArjoHuntleigh Trauma Stretcher
ArjoHuntleigh, a division of Getinge Group, has three trauma stretcher options, but only one with a standard full-length imaging platform.
Overview
The Lifeguard® 55 trauma stretcher is compatible with most conventional X-Ray and C-Arm imaging equipment and has a fully radio-translucent mattress. Sliding cassette trays can be accessed from both sides. Cassettes can move longitudinally for full body X-Rays. Conversely, a safety side function also provides clearance for lateral X-Rays.
Features & Benefits
Full-length radio-translucent mattress
Conventional X-ray and C-arm compatible
Hydraulic foot controls for height and tilt on both sides
Emergency head-end Trendelenburg foot pedal
Folding Stainless Steel safety side rails with 'extra-low' position for lateral X-ray
Gas spring assisted backrest adjustment
Dual height push/pull handles
Integral folding IV drip rod, plus additional IV drip rod
Storage for D, E or F size oxygen cylinder
Storage area for patient's belongings
Bracket for attachment of Oxygen therapy/suction equipment
Anti-static castors with four corner activated brake/steer system
Easitrack™ fifth wheel steering system with four corner activation
Footboard/monitor shelf/patient notes holder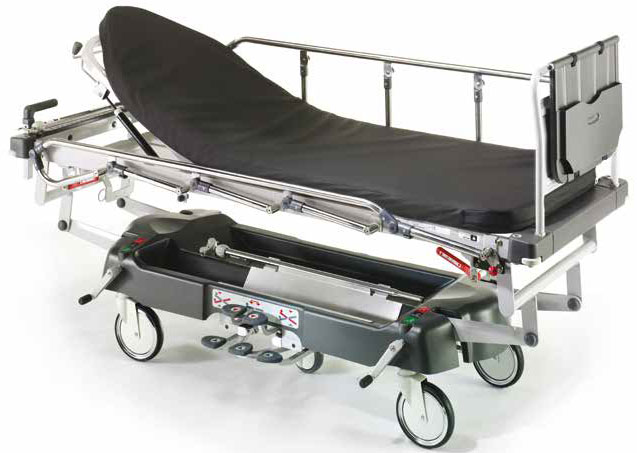 Hausted Trauma Stretcher
Hausted has the Horizon Series X-Ray Trauma Stretcher, which features an integrated cassette tray accessible from either side of the stretcher. The cassette has a metering system that allows precise positioning, either centered or offset. You can raise the tray system closer to the patient's surface to take higher quality images.
Overview
Intended for transport, treatment and recovery, the Horizon trauma stretcher allows for full-length X-Rays, while functioning as a treatment table and transport stretcher.
Features & Benefits
Stainless Steel 6-Leg, 3-Position Retracto® Rails with built-in push/steer handles and top caps that eliminate patient transfer gap
Dual-side hydraulic foot pedal controls for height adjustment and trendelenburg
Pneumatic assist backrest
Brake and center track steering activation from all 4 corners
Seamless thermoformed base cover with storage and built-in oxygen tank holder
Full perimeter non-marring bumper system
Full length radiolucent mattress
Full length tracking X-Ray cassette carrier has film location indicators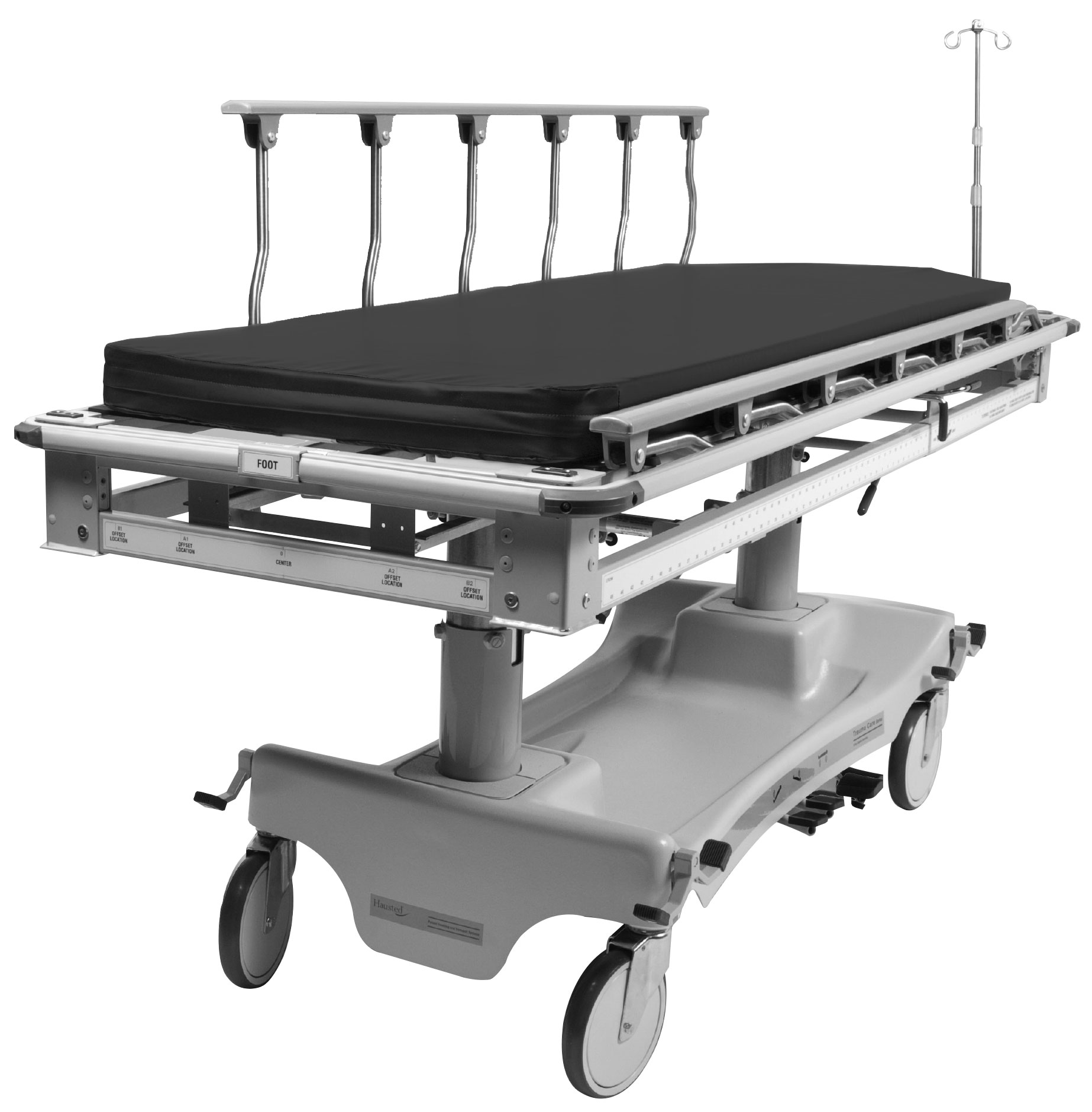 Hill-Rom® Trauma Stretcher
Hill-Rom®'s trauma stretcher, puts a focus on providing more than mobility for patients and staff.
Overview
The aim to provide more than mobility is broken down into three groups:
A Safe and Comfortable Patient Experience
Simple and Safe Maneuvering
Durability to Withstand Your Demands
Features & Benefits
Choice of mattress
Bumper protected siderails
Spring-loaded Steering Plus™ system that absorbs shock of driving over bumps and thresholds
Accommodate standard-size X-ray cassettes with full-length cassette deck
360° maneuvering with Steering Plus™ system
Zero transfer gap siderails
Obtain an immediate patient weight with scale that memorizes last weight
Compatibility with most lifts and overbed tables
Power washable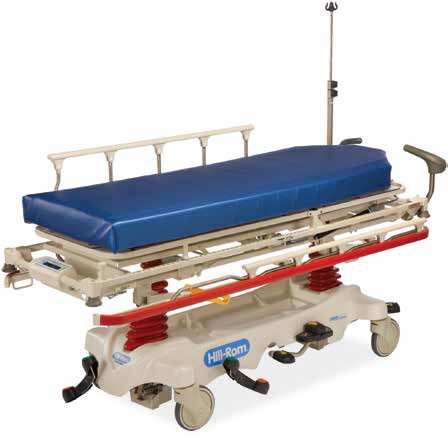 Meditek QA3 Trauma Stretcher
The leading UK stretcher manufacturer, Anetic Aid, manufactures Meditek's trauma stretcher. The QA3 X-Ray or Emergency Stretcher is the lowest height of all the trauma stretchers and has one of the highest weight capacities.
Overview
With its robust design (as it has been used in military settings) it is the only trauma/emergency stretcher that can go into trendelenburg (or reverse) at any height by a headend-located hand lever.
Features & Benefits
Hydraulic lift mechanism
Vertically operated sides giving a virtually zero transfer gap
Latest caster technology – low rolling resistance
5th wheel steering for guidance by one person
Pushing handles
Gas assisted backlift
Advanced single bar braking system from anywhere around the stretcher
2 Fixed I.V. poles
Side loading cylinder trough
K8 pressure care mattress
Patient utility trays
Rotating buffers – at head and foot ends
Anti-bacterial properties and smooth moulded surfaces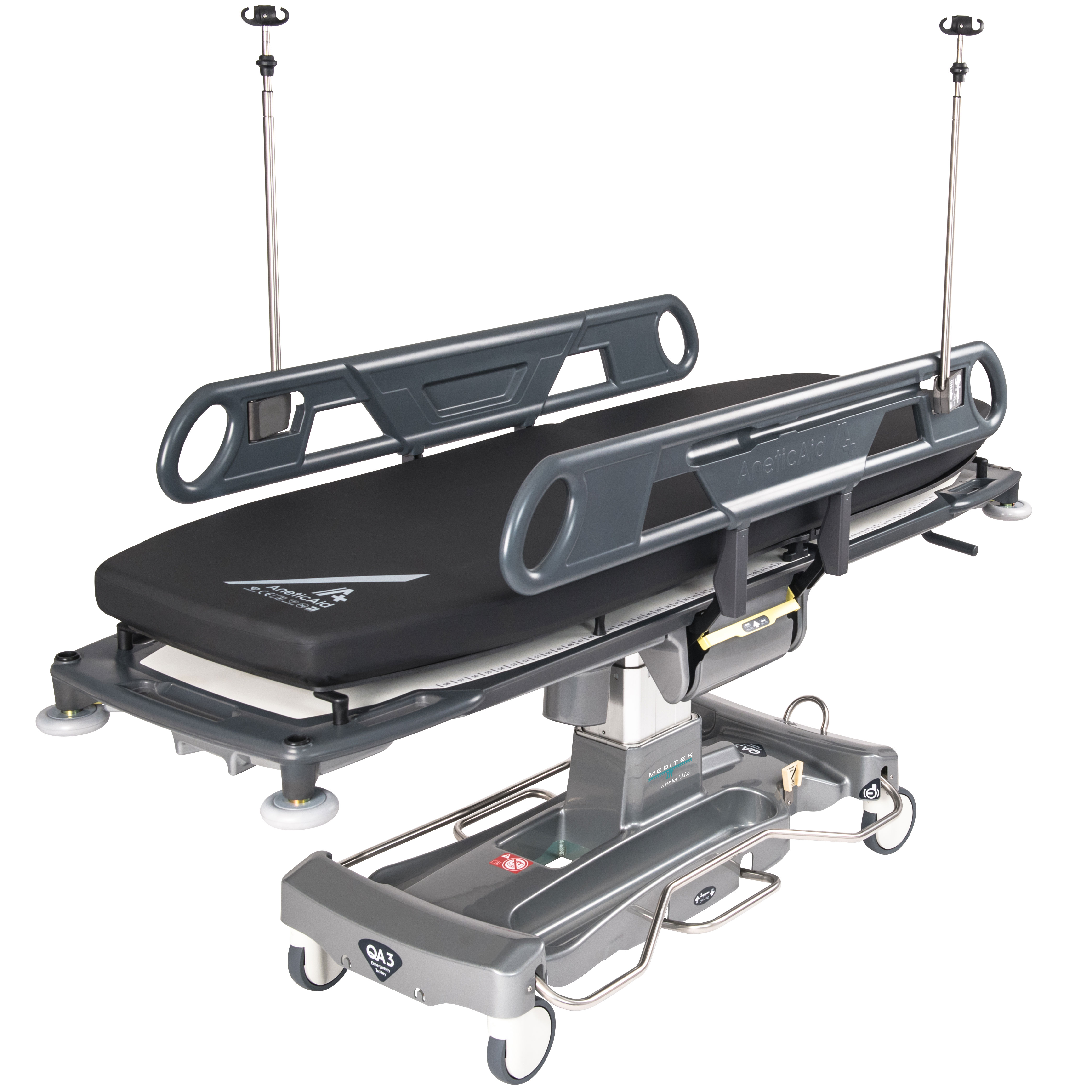 Stryker Trauma Stretcher
The Stryker Prime X X-Ray Stretcher combines ClearView technology, for imaging, with the familiar aspects of the Prime series stretchers. There are three models to choose from, although they are not all available in all countries:
1105X (Fifth Wheel)
1115X (Big Wheel Advanced Mobility)
1125X (Zoom Motorized Drive System)
Overview
The dual-deck patient platform allows for the positioning of cassettes at any point under the patient. The open architecture allows for almost any cassette size.
Features & Benefits
Clearview Technology Platform
Thermoformed ABS base with extra capacity storage tray
3" enhanced comfort mattress
Litter-mounted oxygen bottle holder
Integrated transfer board
Power-washable design (1105X and 1115X only)
Four-wheel, center-locking brake system with dual end activators
Dual, side-mounted foot control hydraulics with uni-lower pedal
Glideaway™ Siderails
4 integrated IV receptacles
Integrated wheel covers on castors
Pneumatic backrest/stationary foot
Constant descent hydraulics
Dual end brake/steer controls
40° foot section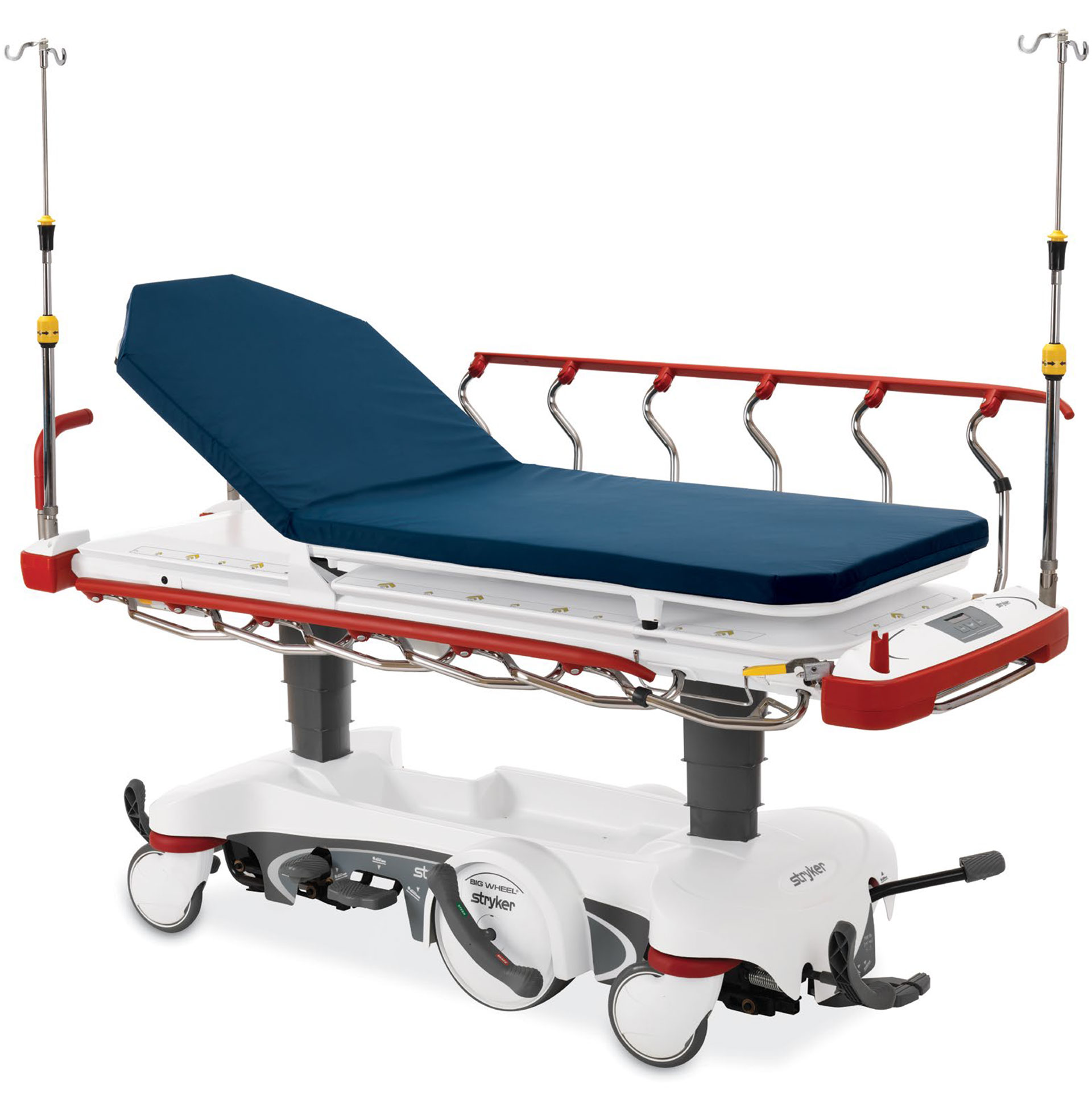 Techlem Trauma Stretcher
Techlem's 5000XR trauma stretcher is an extension of the Techlem 5000 General Transport Series.
Overview
With the full patient surface cassette placing, access is available from all four sides.
Features & Benefits
Raise/lower pedals
4 wheel locking casters
"Total view" full surface accessibility for cassette placement
"Accu-steer" fifth wheel steering
"Posi-lock" braking system
Wraparound bumper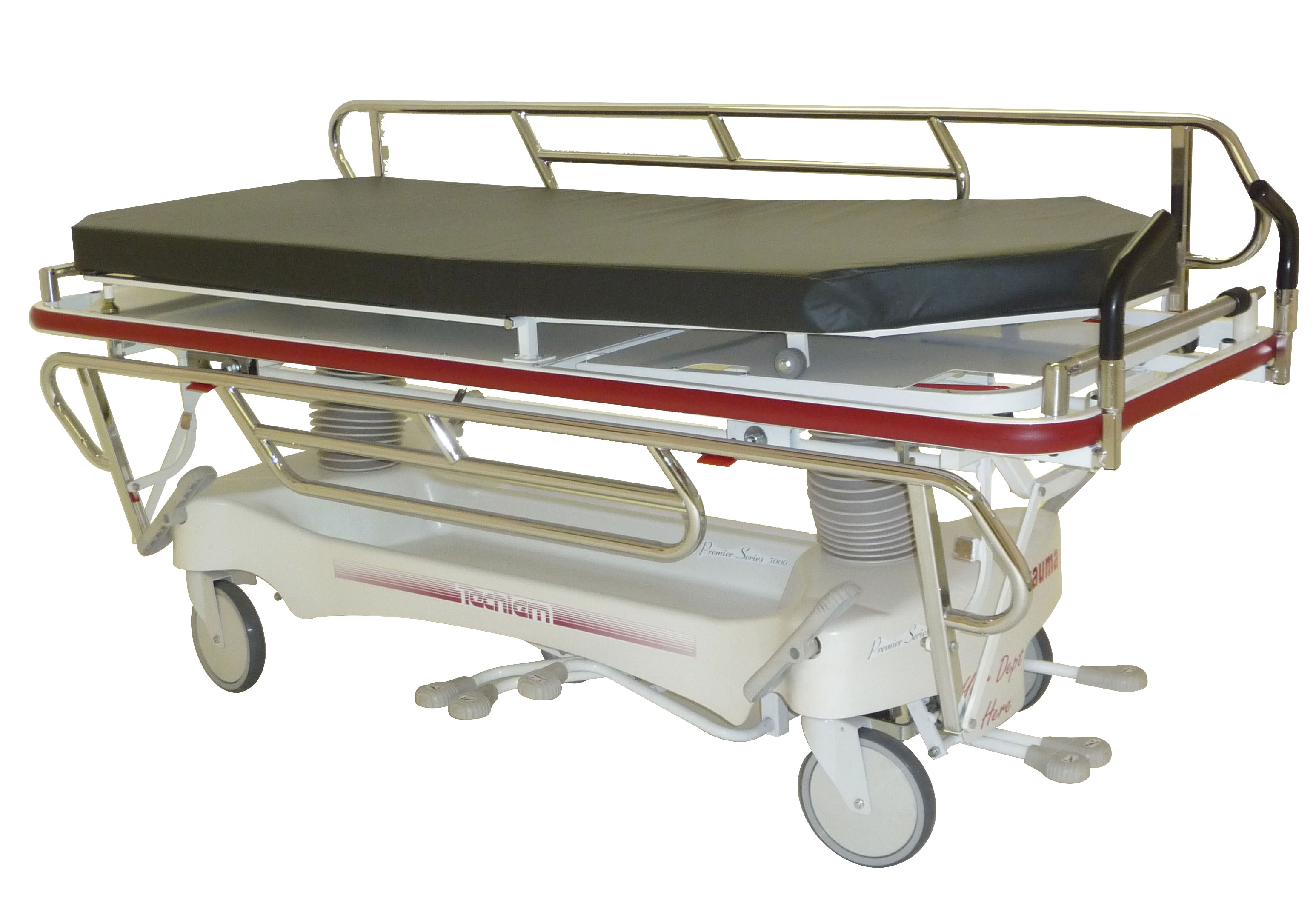 Concluding Trauma Stretchers
When looking for a trauma or emergency stretcher, keep in mind that your stretcher should be a harmonistic mix of the technical specs you require and the benefits that the features highlight.
If you're undecided, look for unique features or benefits as a possible deciding factor.
Additional Resources
Meditek is the exclusive Canadian distributor for the QA Series stretchers from Anetic Aid. As the leading emergency stretcher in the UK, the QA3 emergency stretcher focuses on two major factors in emergency care – stretcher height and trendelenburg accessibility.
Meditek is also the Manitoba and Saskatchewan distributor for Techlem stretchers.
Don't forget to download the technical specs of all the aforementioned stretchers.