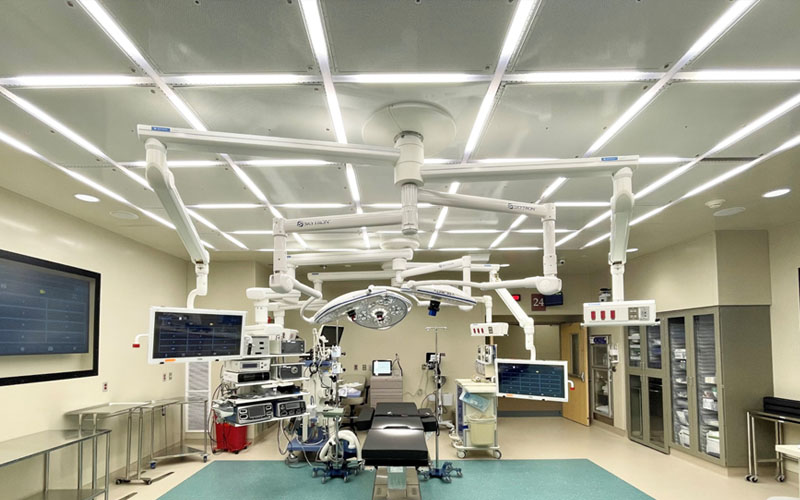 SLD Operating Room Ceiling System
Integrate the operating room's structural, air diffusion, and lighting requirements into a single system.

Eliminate bacteria in the air and on hard and soft surfaces that are often missed during routine cleaning.

Coordinate and suspend surgical lights, anesthesia columns, equipment boom arms, imaging rails, lead shield tracks, electrical boxes, and more.

Install a ceiling system for a general operating room in as little as three hours.
REQUEST A QUOTE OR INFORMATION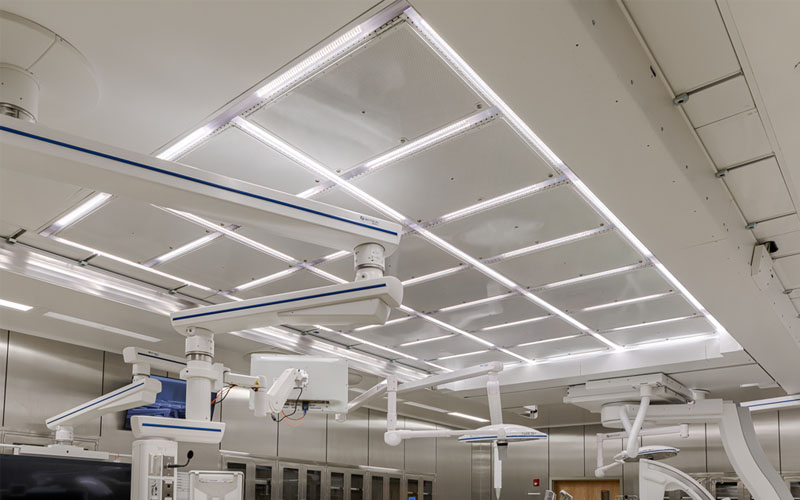 AirFRAME
AirFRAME is a fully integrated, modular, prefabricated solution designed specifically for operating room ceilings.
Airflow performance: Protect the patient with Zonal Pressure Control®. AirFRAME exceeds the ASHRAE minimum guidelines and has been clinically shown to reduce the potential for contamination at the surgical site.
High-quality LED lighting: Powered by Philips Fortimo LED Strip modules, see an output of 1,100 lm/ft at a high energy efficacy of up to 181 lm/W. Our boards have exceptional lumen maintenance: an L90 of 36,000 hours.
Reduced connection points: Requiring as few as one connection point for the integrated lighting, one connection point for the supply air, and a couple of threaded drops per module, the AirFRAME minimizes peripheral work and saves valuable interstitial space.
Easy maintenance: Hinged damper/diffusers provide easy access for cleaning and HEPA filter installation. The LED drivers for the integrated lighting are accessible in external enclosures for quick maintenance. AirFRAME modules are walkable.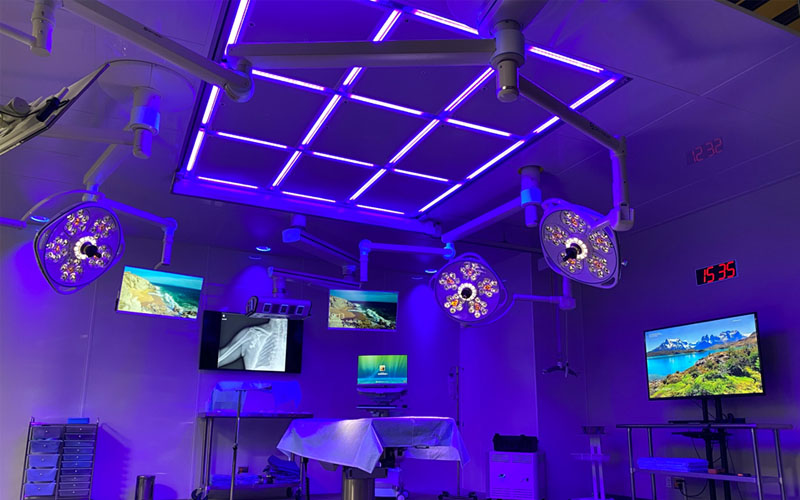 Indigo-Clean
Indigo-Clean is a visible light disinfection device that can be integrated into the lighting component of the AirFRAME ceiling system.
Indigo-Clean kills bacteria in the air and on hard and soft surfaces that are often missed during routine cleaning.

Indigo-Clean is NOT UV light - it uses safe 405 nm visible light.

Indigo-Clean reduces surgical site infections by 73%.

No special training, additional staff, or consumables are required to operate.
REQUEST A QUOTE OR INFORMATION