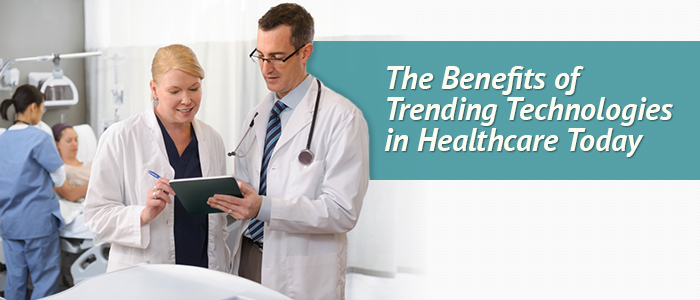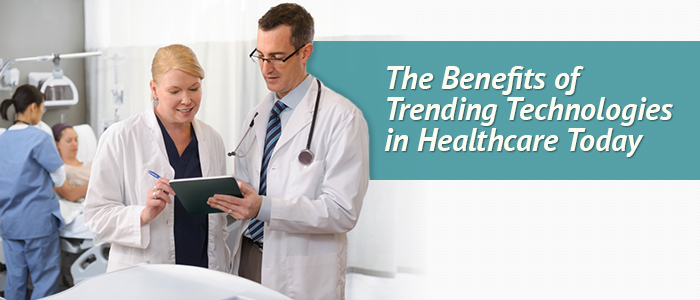 Hospitals are frightening places to many people. But today, patient outcomes are better than they've ever been, and that's largely due to advances in technology. Surgical techniques, superior imaging, electronic health records and telemedicine have each played significant roles in improving general healthcare.
Each technological advance requires a period of adjustment while it is adopted by healthcare practitioners. For example, computed tomography (CT), which is also known as a "CAT scan," was first invented in 1972. It took until 1974-1976 for the first CT scanners to appear in hospitals, and another 4 years before CT technology was commonly available in first-line care centers.
During the time when new technology is taking hold in the medical community, that technology also continues to evolve. Today's CT scanner isn't the same as those initial machines from the 1970s. They are faster, have greater resolution, and are designed to offer a better experience for patients. Perhaps most importantly, CTs now expose patients to less radiation and therefore less risk of genetic damage to their cells while providing radiologists and other providers with superior imaging opportunities.
It seems that there's always some news about another breakthrough medical technology. So it's easy to take technological advances in healthcare for granted and simply expect doctors and other healthcare professionals to work miracles.
Although underappreciated, each new device requires years of research and development, clinical testing, regulatory approval, implementation by physicians and engineering improvements. Hopefully, after this long process, the technology may offer a substantial new benefit to patients. The situation is not unlike actors who become "overnight sensations" after toiling at their craft for decades.
Present Opportunities
There are many opportunities now to further benefit patients.
For example, did you know that the Centers for Disease Control (CDC) reports that 1 in 25 patients in US hospitals have at least one healthcare-related infection? A healthcare-related infection is one that is acquired as a result of the procedures or treatments being performed. Examples include central line-associated bloodstream infections, catheter-associated urinary tract infections and surgical site infections, among others.
These infections in turn create direct medical costs in the range of $28 billion to $45 billion each year. They result in longer hospital stays, as well as cases of re-hospitalization after patient discharge. More advanced ways to reduce healthcare-associated infections (HAIs) would be a great benefit, thus helping patients and providers alike.
One possibility to address this specific problem is to use ultra-violet (UV) light to kill microbes, such as Clostridium difficile (C. diff) and methicillin-resistant Staphylococcus aureus (MRSAs). Xenex, based in San Antonio, TX, has a new product that uses pulsed xenon UV light and has been observed to reduce MRSA and C. diff infection rates by more than 50%. The device costs about $80,000, but the cost of treating a HAI is about $28,000, so it's a wise investment.
This is just one example of new technology in the form of a machine that can be placed into practice in the hospital setting. But there are now opportunities to think more broadly about how technology can improve healthcare. Consideration of how to design operating rooms to more efficiently handle these new technologies and improve patient outcomes is of vital importance.
The Hybrid Operating Room
Each new healthcare technology requires a proper setting in the hospital. It requires a new operating protocol; the staff must be trained; and, the technology needs to work efficiently with other existing technology.
This challenge of integrating new technologies is being met in what's called the hybrid operating room. This is a new way of thinking about the function of an operating room, and it requires innovative interior designs, a variety of modern machines, and healthcare professionals who are open to the potential of this new approach.
Hybrid operating rooms are often larger than traditional operating rooms because they need to be. They include, for example, medical imaging machines, such as CT scanners and magnetic resonance imaging (MRI) devices. These machines are available to the operating room healthcare workers in order to provide the best imagery with the most immediate results, allowing physicians to perform minimally invasive surgery.
Better Care, More Quickly
A hybrid operating room offers the potential for patients to receive more comprehensive care faster. For example, consider the case of a patient undergoing a stent placement during angioplasty. Michael Jarotkiewicz, executive director of the cardiovascular service line at Loyola University Medical Center (LUMC) in Maywood, Illinois, was quoted: "Stent patients would be normally discharged then readmitted, but this gives you the ability to do some things in combination where you couldn't do those things before."
Combining procedures also translates directly to cost savings. Hospitals don't have to reschedule physicians and the rest of their staff to perform the additional procedures on another day.
Considering Architectural Design
Hybrid operating rooms are shared by different types of physicians. For example, cardiologists, oncologists and gastroenterologists each might use the operating room. Every healthcare provider – each surgeon, anesthesiologist, radiologist or other staff members – might anticipate a different architectural design for the equipment in the room.
It's important to include input from the entire staff when considering how to design a hybrid operating room so that it can be utilized most efficiently. Dr. Guy DeRose, senior medical director of surgery, LHSC, has mentioned that their "hybrid interventional vascular surgery operating suite features a state-of-the-art imaging system that provides high-quality images of the vascular system needed for minimally invasive endovascular surgery, but it can also be positioned away from the operating table by the surgical team should open vascular surgery be needed."
The design should also include the potential for expansion as new equipment becomes available. The hybrid operating room at the LUMC was built around a permanent imaging arm, but the ceiling and the operating room itself were designed to facilitate future procedures for neurological cases.
The Shape of Things to Come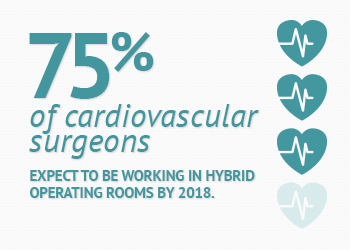 In 1933, H.G. Wells published The Shape of Things to Come, which hypothesized about future events. But we don't have to hypothesize or speculate about the future of operating room designs. They are moving toward the hybrid model.
Hospitals and Health Networks reported in March 2014 that 75 percent of cardiovascular surgeons expect to be working in hybrid operating rooms by 2018. This is particularly true because hybrid operating rooms are associated with minimally invasive procedures; they are well suited for patients who would be poor candidates for open surgery and would face a long recovery.
More advanced equipment also lends itself to training and teaching future surgeons. Dr. Sharadh Sampath, Head of Surgery at Richmond Hospital in Vancouver, Canada, was quoted as saying, "This latest advancement [integrated 3D minimally invasive operating rooms] at Richmond Hospital improves our ability to attract and retain the best and the brightest surgeons to improve local health care here in Richmond…It also bolsters our status as a teaching hospital in the province to train the next generation of health care professionals using the latest, most advanced equipment in modern facilities."
It's Worth It
As you might imagine, hybrid operating rooms are not cheap. Estimated costs run between $2 million to $4 million. Hospital budgets are tight and it's not always clear that the investment of such a large sum will be cost-effective.
Susquehanna Health, which governs four hospitals in Pennsylvania, recently faced this decision and chose to go forward with the hybrid operating room. In so doing, they were able to recruit a specially trained cardiac surgeon, retain their vascular surgeons, and the hybrid operating room now supports comprehensive endovascular services. The services they now can provide put their whole hospital system in a stronger position.
Ultimately, patients benefit from the diverse capabilities that a hybrid operating room offers. When patients are at high risk for complications, a surgical team can be ready to step in if needed. Procedures can be performed in less time, at less risk for complications and infection, and with shorter recovery time.
Service Providers
When thinking about the design of a hybrid operating room, consideration has to be given to every piece of equipment that will be positioned in the room. This includes operating tables, video integration systems, imaging equipment and more.
A company like Meditek can be vital to the success of a new hybrid operating room. Meditek works with engineers and architects to design the layout of the room, and it also supplies products that are customized for the room's functionality. Meditek also provides transportation and installation of the equipment and has a 30-year track record as a foundation to their business.
Asset Tracking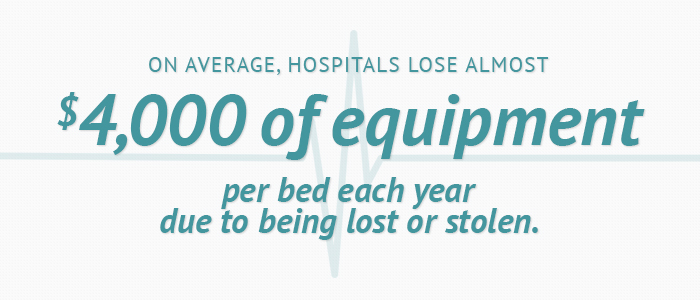 In addition to maintaining a state-of-the-art facility and designing new hybrid operating rooms, hospitals have another problem: keeping track of their equipment.
It might be difficult to believe, but it's reported that more than one-third of nurses spend at least 1 hour per shift looking for misplaced equipment. Patients don't appreciate waiting for a procedure only to learn that their nurse can't find the device required.
And it's not only equipment that is misplaced. On average, hospitals lose almost $4,000 of equipment per bed each year due to being lost or stolen. That's a stunningly high level of shrinkage.
Inventory Management
Hospitals are turning to inventory management systems to track and manage their equipment. Electronically tagged equipment can be tracked as it moves within the hospital and security can be notified if any equipment is removed from a geo-fenced zone around the facility.
Typical tracked assets include balloon pumps, cameras, infusion pumps, vital sign monitors, and pacemakers. It seems hard to imagine that pacemakers would need to be tracked, but as is often the case truth is stranger than fiction.
Asset tracking can be done with sufficient precision to know where something is inside a room. It's like knowing that your keys are by the phone in the kitchen, rather than merely somewhere in the house. Essentially, it eliminates search times and the frustration that goes with them.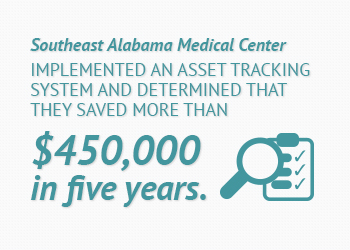 In one case study, Southeast Alabama Medical Center implemented an asset tracking system and determined that they saved more than $450,000 in five years. The cost calculation included the actual cost of devices in terms of reduced shrinkage as well as the time cost of staff that did not have to search for lost devices.
Hospitals can also take advantage of inventory management systems to schedule maintenance and anticipate when equipment will come back into service. This provides the means for hospital staff to measure efficiency and in turn, determine if the equipment they have is meeting their patients' needs.
Patient Tracking
In addition to tracking assets, hospitals can also benefit from tracking patients. The use of real-time locator services (RTLS) can assist physicians and other hospital staff in knowing where patients are, how far along they are in a particular procedure, and when to expect them to be moved.
Additional notes on patient details can be tagged to patient records. For example, notes could indicate after a total knee arthroscopy that the patient must be active within a certain number of hours, but also is at greater risk for a fall. That information can then be used by staff to better ensure patient safety and facilitate an improved recovery.
The "situational awareness" this technology offers can provide for greater general hospital efficiency and, by consequence, shorter patient stays, which is a critical component of hospital efficiency. Shorter patient stays are actually a critical component of hospital efficiency.
The shorter patient stays effectively make a hospital bigger but without the extra cost of additional facilities. The CDC calculated that given a 275-bed hospital if the average length of stay could be reduced by just 4 hours, that would be equivalent to adding 10 additional hospital beds to the facility.
Patient tracking can also improve hospital efficiency in helping locate patients who have either wandered away from where they were expected to be or maybe visiting with family or friends walking around the facility.
Technology in Hospitals
Healthcare technology today is offering significant potential benefits to hospitals, healthcare providers and patients. Even though some of these new advances are not in form of new machines or the latest medicines, "technology improving healthcare" is a common theme.
For years, industrial firms have enjoyed the opportunities offered by integrating new technology in their workplace and factories. This had led to increased efficiency, more consistent quality and cheaper costs for consumers.
While it may be somewhat unpalatable to think about hospitals in the same way as industries, it is nevertheless true that technology in healthcare can have similar positive effects.
Hospital management technology is currently advancing in at least two innovative ways. The first is the hybrid operating room and the second is in asset and patient tracking. Consider the following recap:
Hybrid operating rooms offer a potpourri of technology within healthcare, combining imaging, surgical and post-operative needs in one common setting. These rooms are designed with efficiency in mind, and with an eye toward patient safety, minimally invasive procedures and shorter patient stays.
Asset tracking systems can now also assist hospitals and patients by helping ensure complete visibility over all hospital assets, as well as over all patients in the hospital. This too results in more efficiency, less downtime and shorter patient stays.
Trust Meditek
There are various companies that have established themselves as knowledgeable leaders in the field of advanced hospital equipment, one of which is Meditek. We service all major Canadian locations and provide onsite support, in addition to specialized medical equipment. Meditek has over 30 years of experience and has extensive knowledge in the specialized area of supporting the care of life in hospitals. Contact Meditek for product inquiries today.